FFA members focus on skill development and career preparation through participation in Career Development Events and Leadership Development Events. These competitive events develop individual responsibility, foster teamwork and promote communication while recognizing the value of ethical competition and individual achievement. Successful members expand their knowledge base by interacting with peers, teachers, as well as business and community leaders to gain a complete and comprehensive knowledge about specific career and leadership areas.
WATCH: Learn more about CDEs and LDEs
FFA
2019-02-04T14:48:15+00:00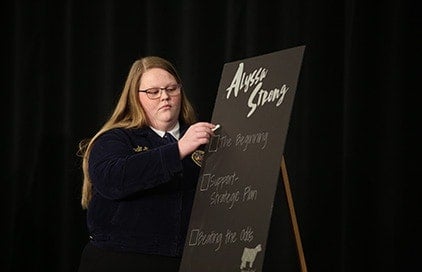 Students interested in journalism, broadcasting, web design and more learn to communicate effectively while advocating for agriculture.
Awards and Recognition Advisory Committee
The National FFA Awards and Recognition Advisory Committee is a group of representatives from key stakeholders that provide relevant guidance
and assistance to all award and recognition programs. The committee consists of representatives from the following key stakeholder groups:
Two business and industry representatives
Two members, who are agricultural education instructors
Two members, who are state staff
Two members who are teacher educators
One student member
One student member of the National FFA Alumni Council
One member who is an awards program superintendent