Kylur Tedder is trading in his blue corduroy for a tinted welding helmet. Thanks to the skills learned in his agriculture classes, he has earned a full-ride scholarship leading to a lifelong career.
When you think about your future, you might imagine yourself at the top of a skyscraper. Or maybe spending your days near the ocean. Perhaps you want a career working with your hands instead of behind a desk. Tedder, from Many, La., will do all these things and more by becoming a welder.
This time next year, Tedder will have a debt-free college degree from the Tulsa Welding School, on-the-job experience and his choice of career opportunities. According to the American Welding Society, the industry will be short more than 200,000 welders by 2020. Yet, it's not just the economic outlook that attracted Tedder to his future career; it was a passion sparked during his time in the National FFA Organization.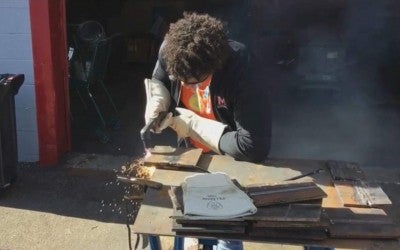 "My teachers, Mr. Dockens and Mr. Simmons, invited our class into the shop one day after we finished up all of our safety tests," Tedder says. "The first time they fired up the welder and showed us how to lay a simple bead, I knew this was something I could do for the rest of my life."
Tedder continued to take on welding projects in class and began working for an oil field fabrication shop after school with the support of his mother, Elishia. After years of practice, Tedder began competing in local and state contests. In April 2019, he entered his toughest event: the High School Senior Welding Competition.
"I knew I wanted to go to a good school after I graduated and get a top-level education," Tedder says. "When I learned I could earn a scholarship through welding, I had no option but to compete."
More than 260 high school seniors traveled to Houston, Texas, for the competition. By the end of the day, Tedder had made his way to the top and received nearly $20,000 in scholarships and prizes – enough to cover his entire seven-month program at the Tulsa Welding School.
"I am really looking forward to earning my certification and entering a trade," Tedder says. "Society will always need welders, electricians, plumbers, carpenters and more. If you want to get into a trade career, there will always be demand."
Getting started in a trade can be as simple as clicking on a screen. Visit FFA.org to learn more about sponsor-funded SAE grants for skilled trades. To learn more about various trade skills and the careers you can pursue with them, visit AgExplorer.com.