Whether you're in the agricultural classroom or having fun at the 91st National FFA Convention & Expo, it can be easy to #SpeakAg with your friends. But what about on social media when someone gets a farm fact wrong? FFA members should considering using #SpeakAg to share their viewpoint on agricultural issues. Top industry leaders visited with FFA members during the expo about how they can speak up to set the facts straight and have productive conversations.
Here's how to #SpeakAg from three industry leaders:
Learn about agricultural issues
It is easy to be overwhelmed by the sheer number of agricultural issues – from farm policy and trade to food safety and environmental laws – where do you begin? The newsletter Agri-Pulse is a good starting point. Sara Wyant, editor of Agri-Pulse, e-mails the latest updates on agricultural issues.
"People learn best when it's something they are interested in. Start with one topic and become an expert on that. Learn what's happening at the farm level, what consumers are saying and what regulatory issues there are," said Wyant.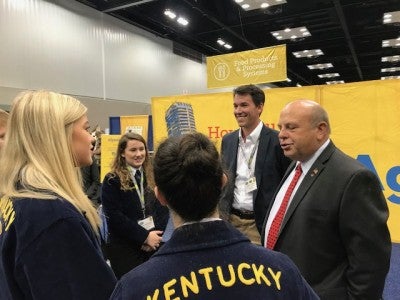 Vance Crow, director of millennial engagement at Bayer Crop Sciences, and Zippy Duvall, president of the American Farm Bureau Federation, talk about agricultural issues with Kentucky FFA members at the #SpeakAg booth.
Make a difference in agriculture
When we are on our farms or with FFA friends it can be easy to complain about agricultural issues. To make a difference you must get involved. Joining the National FFA Alumni and American Farm Bureau gives you opportunities to talk with industry leaders and policy makers.
"My dad said I used to complain about all the issues at the breakfast table and he said, 'If you want to make a difference you have to get outside your fence rows.' That means you have to make time to be involved in an organization that allows your voice to be heard," said Zippy Duvall, president of the American Farm Bureau.
Use #SpeakAg
When we open Twitter or Facebook it is easy to engage with someone who got a farm fact wrong. Instead of using #SpeakAg to argue, use it to create productive conversations.
"Find people who are talking about things you find interesting. When they find out there is a farmer asking them questions they will ask you questions. That's when you have the most productive conversations," said Vance Crow, director of millennial engagement at Bayer Crop Sciences.
Visit the #SpeakAg booth #865 at the national expo to learn more.
Lauren Schwab is a graduate of Miami University in Oxford, Ohio. She works full time on her family's pig farm as the farrowing house manager. She is a freelance writer and blogger at farmgirlwithcurls.com.