Students at disparate schools in northern Virginia join for a hands-on agricultural experience and award-winning FFA chapter.
High school students in the Agriculture Production Technology program at Massanutten Technical Center (MTC) in Harrisonburg, Va., have the opportunity to get hands-on experience on a farm. It's all thanks to a local couple who have welcomed them to their operation, Valley View Farms, with open arms.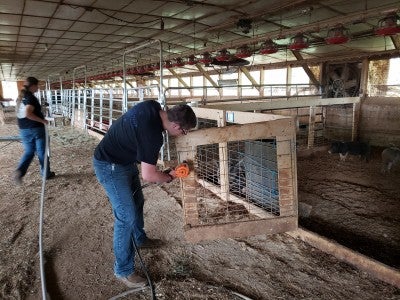 "This land [Valley View Farms] has been in my family for 125 years," says Mike Phillips, who owns the farm with his wife, Susan. "My wife and I don't have children, but I've always wanted to share what I've learned with the next generation and leave a legacy. This program at MTC allows me to do just that, and it feels good to know I'm helping introduce young people to agriculture in this way."
MTC, a career and technical education center in which Rockingham and Harrisonburg public schools partner, launched its two-year Agriculture Production Technology program in 2017 with 12 students, but it's been so successful that enrollment has nearly doubled in just a year.
Emphasizing animal sciences, plant science, soil science, agricultural business management and agricultural mechanization, the program is open to juniors and seniors and includes a combination of classroom work and time spent at the MTC Working Land Lab on Valley View Farms. Students work with livestock, help cultivate crops and assist with construction and environmental sustainability projects. They also have the opportunity to join the MTC FFA, which is especially appealing to students coming from high schools without FFA.
"Some of the students in our program have a background in agriculture, but the students from Harrisonburg public schools often come in with no ag experience or knowledge. That's part of what makes this program so valuable to our community," says Eric Stogdale, the agricultural education teacher and FFA advisor at MTC. "Plus, we're primarily focused on preparing young people t