Thanks to a substantial donation with the simple designation to "make a difference," the Kentucky FFA Foundation recently awarded five student entrepreneurs $5,000 each to grow their established supervised agricultural experience projects.
"Most of our board members are ag entrepreneurs, and they love the idea of innovation," says Sheldon McKinney, executive director, Kentucky FFA Foundation. "So upon receiving this gift from Dr. Mark Lynn, who is the chairman of the Kentucky State Fair Board, and his wife, Cindy, we thought, 'What if we could use it to remove a financial barrier for student businesses?' "
The Shark Tank-type competition kicked off in May with high school students across the state submitting a four- to six-minute video explaining their businesses and plans for the grant money. Ten finalists then presented live to a panel of "sharks" (Kentucky FFA Foundation board members) at the state convention in June, where the five finalists were awarded on stage.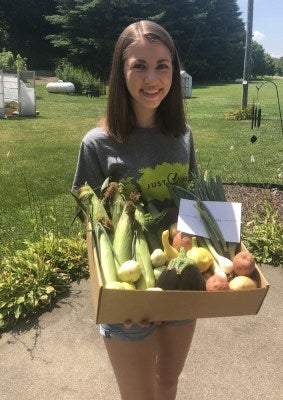 Sophomore Ben Williams from Thomas Nelson High School in Bardstown, Ky., received one of the grants for his food truck, Ben's Jammin Ice Cream (pictured above with judges), which sells ice cream from a local dairy farm and other Kentucky-proud products like Ale8 soda. Williams came up with the idea soon after he learned that dairy farms were closing as a result of retailers changing milk suppliers. "I wanted to do something to help dairy farmers," he says. "So I thought, 'What about an ice cream truck?' "
After purchasing the truck for $1,000 at a junkyard and making some repairs and cosmetic fixes, Ben's Jammin Ice Cream opened for business in September 2018. Williams takes the truck (his parents drive since he's not yet 16) to various local events, and he has even contributed a portion of his proceeds to fighting childhood cancer.
With the $5,000 grant, Williams was able to replace the radiator, fix the transmission, install a better ice cream dipping cabinet and pay down the $10,000 loan he cosigned with his dad. He plans to pay it off in full over the next year. He also wants to expand his menu for the winter months, potentially offering Kentucky-made apple cider or caramel apples.
A second winner, Olivia Moore, runs Moore Goodness (pictured above, left), in whi