Nick McKenna learned early on in life what career path he wanted to pursue. Growing up on a farm and operating a lawn mowing service with his dad, he gained an appreciation for the fun and challenges of turf management. McKenna is now an athletic fields manager at Texas A&M University and an officer in the Sports Turf Managers Association. A former member of the Vinton-Shellsburg FFA Chapter in Iowa, he is currently working with FFA to enhance the turfgrass supervised agricultural experience (SAE).
Q: What do you remember most about FFA?
A: The biggest things I remember from FFA are the people I met and the opportunities FFA provided: trips to national convention, judging contest, State President's Conference and many others. Heck, I even met my wife at the Washington Leadership Conference!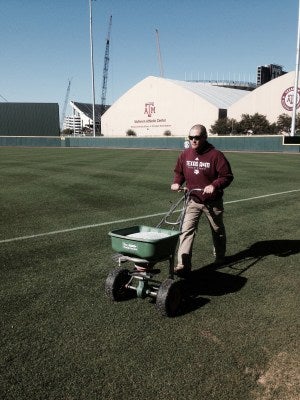 Q: How did FFA help you prepare for your career in sports turf management?
A: Honestly, I think the leadership and communications skills that FFA helped me develop have had the biggest influence on my career.
Q: How much is sports turf management like farming?
A: There are a lot of similarities. I often joke with people that I'm really just a specialty crop farmer, but instead of growing something like corn or soybeans, I grow natural grass. The only big difference is that we manage the grass on a much more intensive basis than an agronomic crop.
Q: What sports facility of any kind has the best turf that you've ever seen?
A: Wow! That's a tough question. There are some amazing sports turf managers out there at all levels, producing phenomenal playing surfaces. If I have to pick just one facility, I'd probably choose the grass tennis courts at Wimbledon. The way they balance the science and art of our industry is just fun to watch and follow throughout the year.
Q: What advice would you have for FFA members pursuing their own careers?
A: Find something you can be passionate about and pursue it with relentless desire. I am extremely fortunate that I found a career that allows me to combine my love of agriculture and sports. It's hard to think of it as going to work when I get to go to the ballpark every day.
Photography courtesy Texas A&M University.