A Kansas FFA chapter makes blankets that are a source of comfort and community support.
When Tonganoxie High School student Bryce Atchison was fighting brain cancer, he spent a lot of time at Children's Mercy Hospital in Kansas City. A donated blanket provided comfort – and so much more – while he received lifesaving treatments.
"It was such a symbol of warmth and security, and it reminded me that I had people watching out for me," recalls Atchison.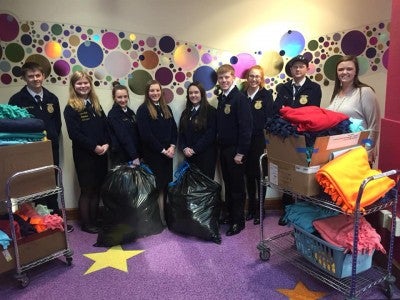 Atchison, an FFA member who plans to major in agricultural education at Kansas State University in the fall, wanted to give back to the hospital that helped him beat cancer. He led his chapter in a project to make 50 fleece blankets for patients at Children's Mercy Hospital.
The chapter received a $400 Living to Serve Day of Service mini grant to purchase fabric to make the no-sew blankets. Blankets were made from a large piece of fabric with fringed edges that were tied together for aesthetics and durability. It took about 20 minutes to make each blanket. Atchison chose fleece because it was a soft fabric that came in a broad range of colors and patterns.
"Fleece is comfortable, warm and durable, and it can stand up to a hospital setting," he adds.
Shelby Siemens, the agricultural education instructor and FFA advisor at Tonganoxie High School, championed the project. The students, she explains, took great pride in the handmade blankets, noting, "Several of our students and their families have received treatment at Children's Mercy, and [the students] really wanted to give back in some way."
Taking the blankets to the hospital last winter was an emotional experience for Atchison.
"I felt such a huge sense of satisfaction in giving back to a place that meant a lot to me," he recalls. "The hospital staff showed us an outrageous amount of support and appreciation. I hope our chapter continues to make this an annual event."
FFA member Jackie Oelschlaeger, 18, made several blankets. She believes the project not only helped children experiencing major health issues but also raised the profile of FFA in the community.
"I thought it was a good idea to do something for kids who needed something to cheer them up," she says. "It also showed how FFA members help out all over the community – not just in agriculture."
JOIN FFA CHAPTERS ACROSS THE COUNTRY IN OUR CHALLENGE TO COMPLETE 930,000 VOLUNTEER HOURS BY THE 93RD NATIONAL FFA CONVENTION & EXPO.
#FFAChallengeAccepted
North Crawford FFA
Wisconsin