With several years of experience in agricultural education under his belt, Dana Wood took on one of the greatest challenges of his career in March 2017: rebuilding and revitalizing the Anson High School FFA in Wadesboro, N.C.
However, it didn't take long for that challenge to become one of Wood's most rewarding accomplishments to date.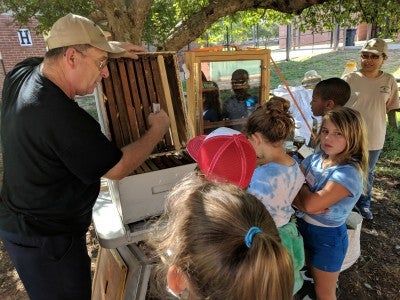 "The Anson High School FFA needed support and guidance, and I felt ready to commit myself to the chapter and help it succeed," Wood says. "I believe in the power of hands-on education, so that's been a big part of what I've focused on providing the members. We're not just talking about agriculture; we're applying the lessons taught in the classroom, and as a result, these students are directly engaging with food, fiber and natural resources in an exciting way."
Wood and his students applied for several grants to help make his hands-on approach to ag education a reality, including a $5,000 grant from the National FFA Organization's Grants for Growing program, which is sponsored by Tractor Supply Co., and a $2,000 grant from Pee Dee Electric's Bright Ideas grant program.
The funds are being used to help create Anson High School's Outdoor AgriScience Classroom that Wood describes as a field trip destination for students in Anson County's elementary and middle schools. The outdoor classroom is a hit. The FFA chapter collaborated with community members to host two groups of children ages 7, 8 and 9 in the summer of 2019.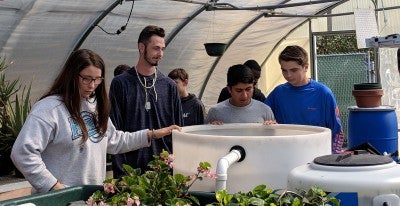 In addition, Wood collaborated with school administration to coordinate funding for the purchase of an aquaponics system from Stuppy Inc., a national greenhouse manufacturing company, along with a hydroponic table from CropKing that's expected to enable students to grow 2,180 heads of lettuce during the school year. Both the aquaponics system and hydronic table are part of the high school's on-campus Anson Greenhouse Innovation Center.
Wood was also instrumental in establishing the Anson High School FFA Alumni Chapter in 2018, which he says is an important part of cultivating a strong FFA.
"If you're going to grow an FFA chapter, you need plenty of support," Wood says. "We are fortunate to have alumni members, parents and grandparents who are ready to step in and help out."
Going forward, Wood plans to continue expanding the Anson High School FFA Chapter and enhancing the school's existing ag facilities.
"Whether or not my students pursue careers in agriculture in the future, they're going to walk away from FFA as informed, knowledgeable citizens who understand the importance of farming and the ag industry as a whole," Wood says. "That means the world to me and makes the work I do feel so worthwhile."
The Grants for Growing application opens March 2. To learn more, visit the program's webpage.