Have you heard of the #10GallonChallenge? Katelyn Huie, a member of the Merced FFA Chapter in California, (pictured above, left, with Lauryn Knott, top, and Bianca Trinidad, bottom), hadn't until she attended the Washington Leadership Conference (WLC) in 2018. It was there where she learned that FFA chapters around the nation were challenging one another to collect as many gallons of milk as they could, and then donate them to local food banks to support families in need. The challenge also supports dairy farmers by helping move milk off store shelves and by increasing the demand for milk.
When she returned from WLC, Huie shared the idea with her FFA chapter. With help from agriculture teacher and FFA advisor Nicole Cecil, chapter members launched their own #10GallonChallenge in September 2018.
"We made a canvas to advertise it, and we gave FFA points for every gallon of milk students brought in so they could have an incentive," Huie says.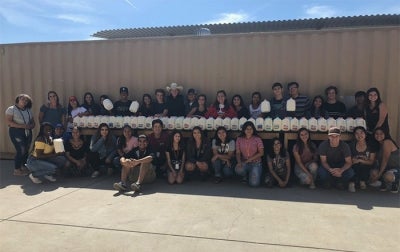 Students had three days to bring in their gallons of milk, and it was stored in the school's large walk-in cooler.
"We wanted to have the longest shelf life possible for the milk, so that's why we gave three days to turn in milk," Cecil says. "We delivered it to Merced County Food Bank on Friday."
Huie's dad manages a dairy in Planada, Calif., and he was able to recruit local farmer friends to donate milk. Hillcrest Dairy in Planada donated 20 gallons. Other businesspeople, parents and community members joined the effort, too. Over the three days, Merced FFA collected 118 gallons of milk, but it didn't stop there.
Merced FFA challenged the Golden Valley FFA Chapter, also in Merced, to see how many gallons it could collect. Golden Valley FFA then challenged the Central Catholic FFA Chapter in Modesto to do the same.
"The Golden Valley FFA Chapter collected 281 gallons of milk, and the Central Catholic FFA Chapter collected 841 gallons," Huie says. "Combined, we donated 1,240 gallons of milk."
The milk was delivered to nearly 20 different nonprofits in the area, from the Salvation Army and Second Harvest Food Bank to a children's crisis center and local preschools.
"It was very rewarding for everyone who participated," Huie says. "For me, the rewarding part was knowing our chapter had started a trend that spread throughout the state. Our biggest part of FFA is giving back, and knowing we gave back and helped people who couldn't get milk on their own made it so rewarding. We hope this challenge never ends."
JOIN FFA CHAPTERS ACROSS THE COUNTRY IN OUR CHALLENGE TO COMPLETE 930,000 VOLUNTEER HOURS BY THE 93RD NATIONAL FFA CONVENTION & EXPO.
#FFAChallengeAccepted
Taylor County FFA
Kentucky
Carlisle County FFA
Kentucky