Mackenzie Matarozzo loved horses, but a childhood diagnosis of muscular dystrophy, a disease that causes progressive muscle weakness, made it too dangerous for her to work with the massive animals.
When Matarozzo, a senior at Plateau Valley High School in Collbran, Colo., learned about miniature horses, she couldn't wait to have her own herd. Not long after Matarozzo bought her first miniature horse, a gelding named Blue, in 2015, she heard about an organization that trained miniature horses as therapy animals.
"I thought it sounded super cool and decided it was something I wanted to do," she recalls.
In the process of training Blue to interact with the public, Matarozzo built a stronger bond with her horse.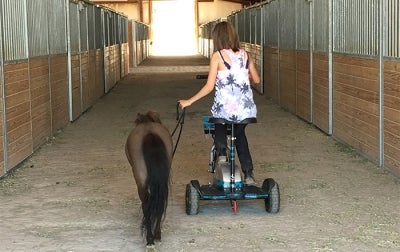 "Therapy horses see things in hospitals and nursing homes like oxygen tanks and wheelchairs that are different than the things they see in a barn; even the surface of the floor is different," Matarozzo says. "You need to have a strong bond so they trust you to keep them safe."
Plateau Valley FFA advisor Ruth Shepardson admits to feeling skeptical when her "horse-crazed" student wanted to use the training program as her supervised agricultural experience (SAE).
"My gut instinct was to say, 'That's not how we look at agriculture,'" Shepardson recalls. "The biggest thing I've learned is to be open to new ideas. If a student is passionate about something, we owe it to them to let them explore it."
Thanks to a 2016 Colorado State FFA Breeding Animal SAE Grant and a 2017 Colorado FFA Innovation SAE Grant, Matarozzo has grown her herd to include two miniature mares and a new filly. She is working to train a second mini horse to work as a therapy animal.
Part of their training includes interacting with other FFA members and representing the Plateau Valley FFA Chapter at community events. The horses, Shepardson explains, are just the right size to teach children about farm animal safety.
The community also benefits from the SAE.
"A lot of people around here grew up on ranches and used to have horses or be around horses," Matarozzo says. "Now that they're in nursing homes or hospitals, they don't think they'll ever see horses again. When I come in with Blue, it brings huge smiles to their faces."
Th