In 1928, our organization's founders — a group of young leaders — came together with a vision and purpose: to unify students, teachers and members of the farming community in support of agricultural education. To achieve this, they formed a group called the Future Farmers of America. We have evolved in the 95 years since (for one, we updated our name to the National FFA Organization in 1988 to better represent the diverse interests and opportunities of our membership), but our goal has remained the same: to prepare future generations for their paths in agriculture and beyond. In doing this, we hold fast to the traditions we've developed and celebrated in our near century of existence and to the many ways FFA members develop a sense of belonging to something very personal, yet much larger than themselves.
"Our traditions are meant to be passed on to future generations and communicate the values expressed within our FFA ceremonies, Creed and motto," says Dr. Larry Case, former national advisor, chief administrator and chairman of the National FFA Organization Board of Directors. "These are ultimately part of what makes our country strong and productive."
As we celebrate a few noteworthy anniversaries within FFA this year, let's also reflect on their history and recognize what has made, and always will make, this organization special.
90 Years of the FFA Jacket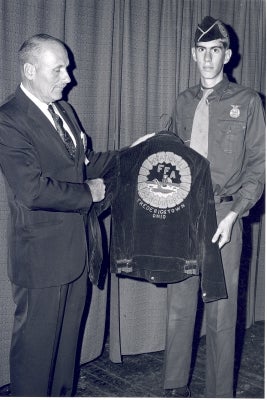 Over the years, the iconic and memorable FFA jacket has shaped countless members' agricultural experiences. However, the jacket many know and love has humble beginnings tracing back to Fredericktown, Ohio.
In 1933, FFA advisor Gus Linter found a blue corduroy jacket hanging inside a local hardware store. Linter purchased the jacket, then connected with a supplier and had his chapter's name — Fredericktown FFA — stitched on the back in gold lettering.
During national convention the same year, Linter's chapter debuted the jackets. The design was so popular, it inspired delegates to vote and later approve the jackets as part of FFA members' official attire. As time progressed, three versions of the jacket were developed. Each version included slight, yet noticeable changes. According to Dr. Gary Moore, professor emeritus of agricultural and human sciences at North Carolina State University, a few other youth organizations have emulated the FFA jacket, including the Vocational Industrial Clubs of America and the Future Homemakers of America members' red jackets as well as the 4-H green corduroy jackets.
There's no telling how many FFA jackets are hanging in closets across the country, and former members revere their association with FFA," Moore says. "This is something we can be proud of. The jacket is an enduring icon and a silent testimony of the values associated with agricultural education and FFA."
In the early days, each jacket was hand-embroidered, says Lisa Barger, National FFA director of merchandise and membership services. The process of producing a jacket, which now takes an average of 1.6 yards of corduroy to create, has since become more mechanized.
"For many members, wearing the FFA jacket helps them feel like they are part of something bigger than themselves," Barger says. "They feel like part of their chapter and community as well as learn to appreciate the long-standing legacy behind FFA."
In 1964, the one-millionth FFA jacket was sold. Currently, more than 90,000 jackets are sold annually, Barger says. Through the Give the Gift of Blu