After more than a century, Woodrow Wilson Middle School in Tampa, Fla., has a flourishing agricultural education program and FFA chapter. It's largely thanks to the hard work and dedication of Kenneth Coogan.
"It's important to know how to care for animals and to be able to grow your own food, and I wanted to share that knowledge with kids in an urban setting," Coogan says. "That made this school in Tampa's Hyde Park neighborhood a perfect fit for me."
Coogan, who teaches sixth and seventh grade science and agriculture courses, and also serves as the Woodrow Wilson Middle School FFA advisor, started the chapter in 2018 after spending five years procuring approximately $45,000 in grants from national, state and local organizations. He used those funds to purchase supplies, lab equipment and technology and to take his students on field trips.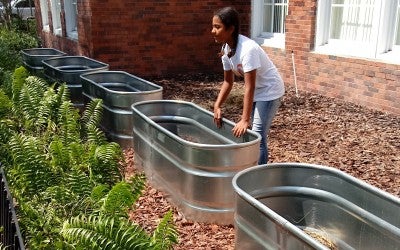 Recently, Coogan used a grant from the Florida-based Technology Education Resource & Redesign Alliance (TERRA) to buy plant identification materials, including galvanized metal stakes, for the school's 15 raised vegetable beds and surrounding landscaping. Students can use their smartphones to scan QR codes on the stakes, and those codes lead to a website, created by Woodrow Wilson Middle School agriculture students, that includes information about each plant.
"I've also used a TERRA grant to give students the opportunity to clone Venus flytraps and to study plant reproduction," Coogan says. "I apply for just about any grant that I can because you can't win if you don't play."
In addition to raised vegetable beds, Woodrow Wilson Middle School agriculture students and FFA members have access to a butterfly garden, two guinea pigs and a bearded dragon, and they raise cockroaches and mealworms. Coogan has also provided students with an aquaponics system comprising two fish tanks – one with goldfish, another with tropical fish – that grow cilantro, Swiss chard, peppers and basil.
Going forward, Coogan plans to continue growing his school's agriculture and FFA programs and says he's excited for what's to come. So are his students.
"My agriculture class is always a hands-on experience, from our garden beds to our classroom animals, and I enjoy using my hands in a real-world way to learn how to better our planet," says Logan Kijanski, a seventh-grade agriculture student and reporter for the Woodrow Wilson Middle FFA Chapter. "I feel privileged to be able to participate in FFA because it's fun and gives you many opportunities to compete against other FFA chapters. Not only has FFA taught me about agriculture but it has also taught me confidence and helped me develop friendships."