Agricultural education students get to see development in action.
When FFA advisor Kelli Meusch saw a viral video of a chicken embryo developing outside an egg, she knew she had to try the experiment with her agricultural education class at O'Neill High School.
"We study cellular development in our vet science classes, so it was perfect for our curriculum," Meusch says. "Watching it happen was so incredible; we were all in awe."
With the help of the Holt County Extension office, Meusch got four eggs and an incubator, and students at the O'Neill, Neb., school candled them to confirm embryos were inside. The plan was to crack each egg and place the yolks (with the embryos) in a plastic wrap pocket inside a cup, then store the cups in an incubator and watch the chicks develop.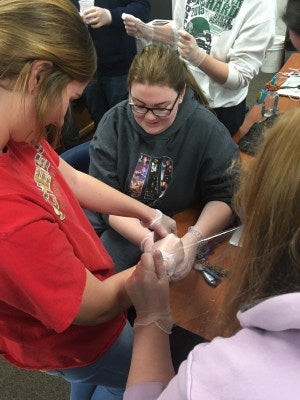 "Breaking the shells without breaking the yolks proved challenging," Meusch says.
Two of the yolks broke but two remained intact and students watched the veins forming and the hearts beating over the course of 11 days. During the second week of the experiment, humidity levels in the incubator dropped over the weekend, and the embryos died.
O'Neill FFA Chapter President Taya Rainforth, 17, appreciated the opportunity to see embryonic development in action. The hands-on experience helped reinforce her plans to pursue a career in veterinary medicine.
"It was so cool," she recalls. "I'd never seen anything like it."
Although the experiment was unfinished, Meusch still considers it a success and she is already planning to try hatching another set of exposed embryos – with a few tweaks. The class will add distilled water and crushed calcium; she also hopes to add a sensor and automatic watering system to the incubator to help maintain adequate humidity levels.
"We didn't realize until after we broke the shells that we took away [the embryos'] source of calcium; the distilled water and crushed calcium can be absorbed through the yolk," Meusch says. "It's a lot of trial and error."
O'Neill FFA Sentinel Alyssa Moser enjoyed being part of the process. She plans to study agricultural education in college and says, "To see all of that stuff happening inside a tiny egg was amazing. Maybe one day when I'm a teacher I can do this experiment with my ag ed students."