Thanks, in part, to her FFA involvement and the lessons she learned in the organization, 25-year-old Victoria Maloch has already built an impressive resume of educational and work experiences – and she's just getting started.
Maloch, a sixth-generation Arkansan, followed in the footsteps of her father and older siblings and joined the Emerson FFA at Emerson High School in 2008. She became president of the Arkansas FFA Association in June 2011, and then she went on to serve as the national secretary for the National FFA Organization in November 2014.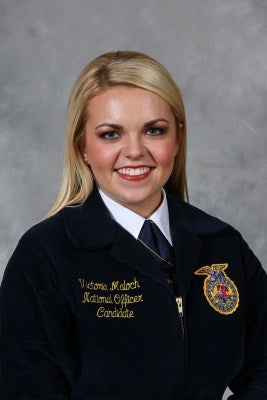 "I took a year off from college at the University of Arkansas to be a national officer. During my travels, I saw firsthand how male-dominated the agriculture industry could be," Maloch says. "It solidified my mission to become a strong female advocate for agriculture and motivated me to encourage more women to do the same."
During her undergraduate career, Maloch also completed three internships in Washington, D.C., working with the U.S. House of Representatives, the U.S. Department of Agriculture and the White House Domestic Policy Council. She graduated from the University of Arkansas in May of 2017 with a bachelor of science in agricultural business with a pre-law concentration, and earned minors in both agricultural communications and agricultural leadership. Then, she returned to D.C. to serve as a Truman-Albright Fellow in the Federal Office of Rural Health Policy.
"I didn't plan on applying to become a Truman Scholar after national office, but several people at the U of A knew about my FFA experience and encouraged me to apply since a commitment to serving others is central to both," Maloch says. "My time as a Truman Scholar reinforced my commitment to ensuring that rural voices are heard in the political sphere, both inside and outside of agricultural policy."
Maloch's tenure as a Truman Scholar led her to additional academic opportunities and to where she is now – England, by way of a Marshall Scholarship, which annually gives up to 40 young Americans the funds to study at any United Kingdom institution of their choice at the graduate level.
From 2018 to 2019, Maloch studied at the University of Cambridge, where she earned a master's degree in public policy. Now she attends the University of Oxford and is working toward another master's degree, this time focusing on comparative social policy and researching rural poverty.
After graduation, Maloch plans to return to the U.S. and pursue a career in agricultural and rural policy.
"FFA helped me get where I am today, and I feel thankful for the way FFA gives you an equal opportunity – no matter your gender, race, religion or background – to lead and pursue what you're passionate about," Maloch says. "FFA helped me build confidence and find ways to connect with others while building community. Without those skills, it would have been much harder to leave my small town and go after my dreams."
Photography: David Fisher