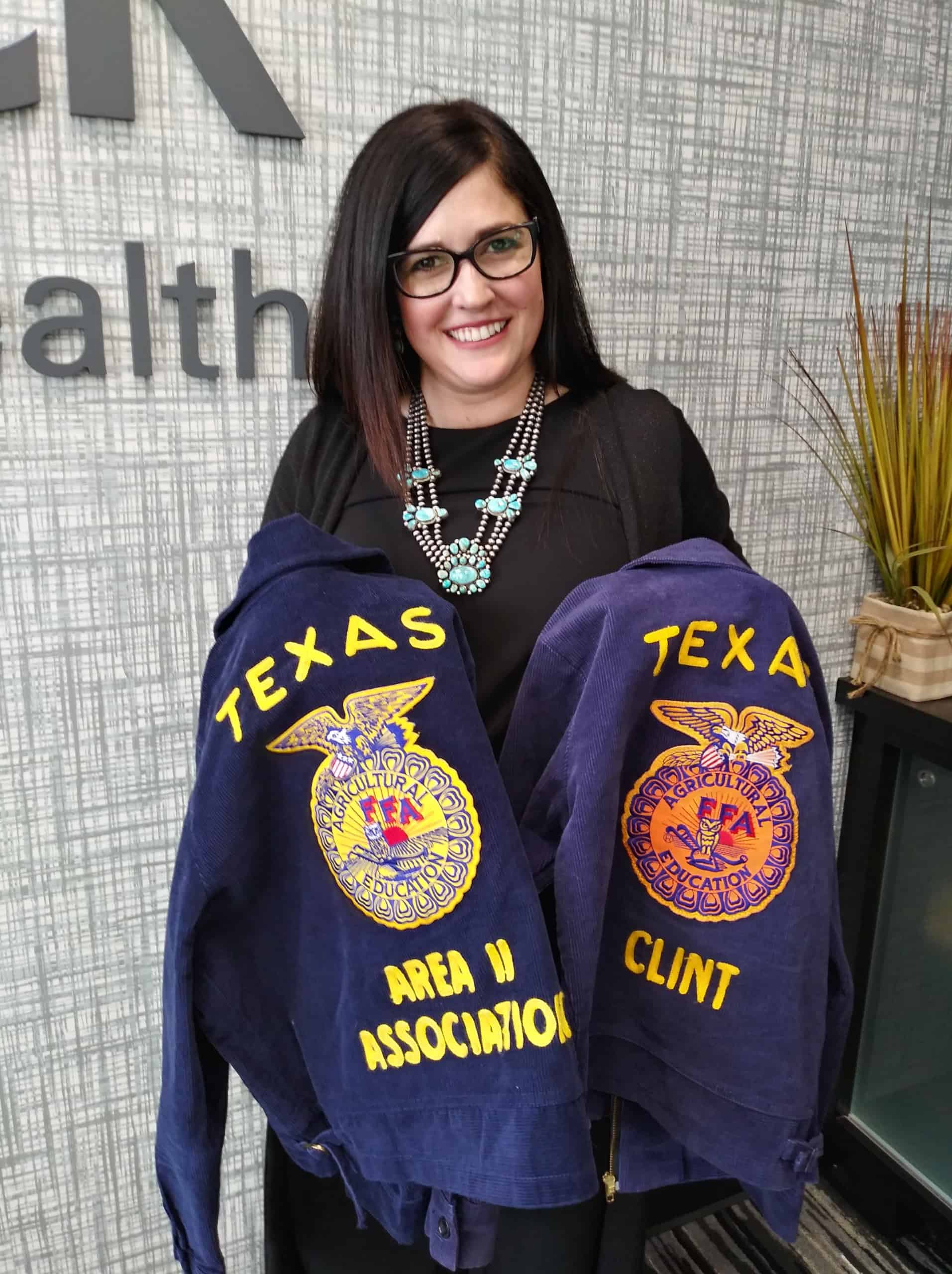 FFA Alumna Kasey Blagg, the associate director of channel business capabilities at Merck Animal Health, has always been incredibly passionate about FFA. We sat down with Kasey to find out how FFA — and her love of livestock — has led to her current success.
Tell us about your childhood involvement in agriculture, as well as in FFA.
I grew up in Clint, Texas, a small town in the lower valley near El Paso. My family immigrated to Texas from Yugoslavia in the early 1900s and bought farmland we have owned for several decades. I grew up around cattle and regularly traveled to local cattle auctions with my grandfather and father. Aside from raising livestock, we grew cotton, corn, onions, and we even had a pecan orchard.
From a young age, I knew that I wanted to pursue a life within agriculture. I thoroughly enjoyed being involved in FFA, taking care of livestock and enjoying the relationships you can have with animals as well as the animal husbandry that surrounds it. At first, I wanted to become a veterinarian but realized early on that it would take lots of schooling, and it was also difficult for me to see animals in pain. Eventually, I started showing livestock—including pigs, cattle, goats and sheep—but I mainly showed pigs and exhibited all over Texas, at the American Royal, and at the Arizona National.
I started getting involved in livestock judging during high school and began to focus on a junior college that would offer me a livestock judging scholarship. I decided to attend Redlands Community College in El Reno, Okla., for my first two years of college and then transferred to Texas A&M University. During that time, I interned for a few different companies and even spent a summer in Washington, D.C., working for a congressman. After graduation, I started working for the San Antonio Stock Show for one show season. I was then offered the opportunity to go to Oklahoma State University to earn my master's degree. During graduate school, I decided to go the nonthesis route and was able to complete an internship with Merck Animal Health as my project. The internship was with the swine sales team, and I spent most of the summer traveling throughout the Midwest.
It was during that summer that I truly got to learn about the Merck culture, and I fell in love with it. After that summer, I went back to school to complete my last year of graduate school. I stayed in contact with my managers at Merck, and thankfully, a coordinator position with the swine marketing team opened up just around the time I was graduating. I worked with both the swine and cattle teams for the next five years and recently was promoted to associate director of channel business capabilities.
During your time as a marketing manager, what were some of your responsibilities?
Contrary to popular belief, marketing is not purely picking out magazine ads and working with advertising agencies. From a vaccine perspective, it primarily consists of having supply calls with supply chain, manufacturing and distribution. I handled the process of marketing the product from when it's made until it goes to the end-user. I spent about 60 percent of my time focused on vaccine supply. Once I took over our Sequivity RNA-particle technology platform, I learned about a new set of U.S. Department of Agriculture regulations and approvals since they are herd-specific customized vaccines. It was a fun role to take on by applying what I have learned from marketing traditional vaccines and adapting it to custom vaccines.
Within vaccine marketing, sometimes the competition will create marketing messages that market the product in a way that is misleading to producers. Because of this, and through the help of our technical service team, we developed the Science Talks webinar series. We bring in several swine industry professionals to ask them questions about different swine diseases and issues that affect the swine industry as a whole. This has been a great way to debunk false information and to let the producers know the truth about the diseases and issues within the swine industry.
Additionally, I formerly helped plan our trade show involvement from start to finish. This all begins with building a sponsorship agreement and deciding what our overall strategy for the trade show will be. For example, will a trade show be more veterinarian- or producer-focused? Are there any products we need to focus on? Or do we have any future product launches coming up? We then work with an ad agency to ensure that we have the right collateral for the trade show and that our marketing message for that show is clear. I look for fun giveaways we can give to customers that will help them remember the message and Merck Animal Health. The swine team likes to own our customer relationships, and we constantly try to focus on our outreach to current swine veterinary students.
Looking back, how has FFA shaped you? What advice would you give to FFA members?
Both FFA and agriculture have substantially contributed to my life. It helped me decide what colleges I attended, and it's how I even met my husband. He was a state FFA officer for California, and I was an area officer for Texas. We both were heavily involved within FFA growing up, and we ended up meeting each other for the first time during a livestock judging event. Flash forward to today—he currently owns and manages a livestock marketing company that puts on cattle sales from start to finish, and I work for an animal health company.
My advice is that we should never let anyone dull our sparkle. All too often, we don't feel like perhaps we are fit enough for a position or don't feel like we belong. However, we should always reach outside of the box and get out of our comfort zone—both personal and professional growth comes from that. It was something that I did consistently throughout my FFA experience, and it eventually led me to an officer position where several doors of opportunity opened. And even though at the very beginning, I felt like I was completely out of my element, it allowed me to build relationships that wouldn't have happened otherwise.
Remember that the connections you make in your lifetime are helpful, especially as you get into your career. You are ultimately building a network with people who have been involved within FFA at one point in their life. And having that FFA background will create that relatability – and you'll be surprised at how many alumni supporters are out there!