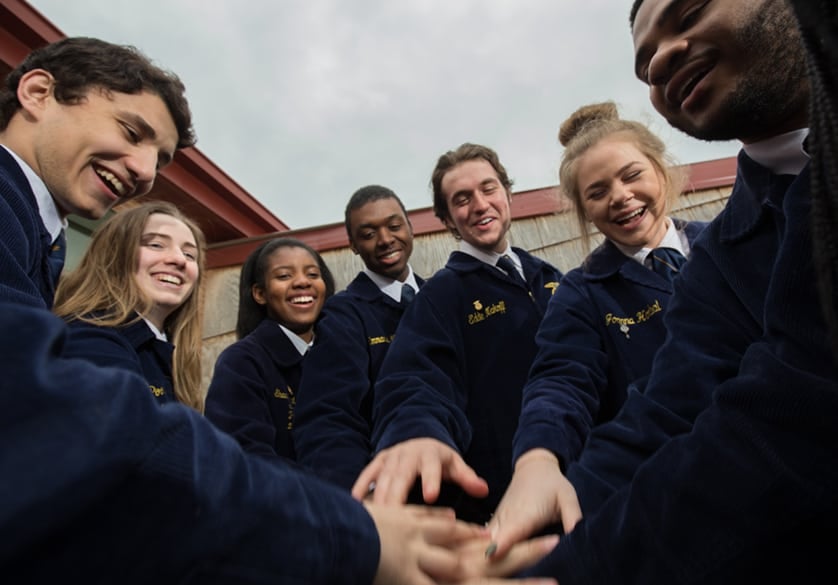 The Desert Edge FFA Chapter in Arizona raises chickens and donates the eggs to charity. Members of the Hernando FFA Chapter in Florida are restoring coastal wetlands. Each spring, Choteau FFA members in Montana plants a community garden. The Woodbury FFA Chapter in Vermont hosts pet adoptions in their hometown.
FFA chapters like these all across the nation grow leaders. They strengthen communities. And they support the local agriculture industry. An FFA chapter is the student organization arm of a school-based agricultural education program. That's why FFA is considered intracurricular and not a "club." Students learn about an area of agriculture that interests them, then they gain hands-on experience in that field through FFA.
Starting an Agricultural Education Program and FFA Chapter
To start an FFA chapter, you first begin by establishing an agricultural education program at your school. It's even possible that a program once existed at your school and now is a prime time for relaunch.
The following 8 steps (with helpful PDF downloads) will help you navigate the process for establishing a quality ag education program. We definitely encourage you to reach out to available resources to help you along the journey – the National FFA Local Program Success Team and Agricultural Education staff within your state (part of your state's Department of Education).
1. Learn about agricultural education.
Agricultural education programs and FFA chapters are structured differently than most school courses. As the local champion for this new program, you'll need a deep understanding of the integrated agricultural education model. Start with these resources:
2. Determine your community's philosophy for agricultural education.
We believe every community can benefit from an agricultural education program and FFA chapter, but you should also know that every community is different – and so will the program's areas of focus. Begin by asking yourself these questions. Reach out to nearby ag education teachers for their perspectives on what would work best in your school. Also gather facts and statistics about the specific need and opportunities in your area, especially post-secondary education programs nearby. Use this information to develop your program philosophy.
3. Gauge student and community interest.
Now that you understand agricultural education and have a general idea for how it would be structured in your school, it's time to see if there's enough interest to move forward. Surveys are a great way to gather feedback and support for the initiative. Utilize these resources:
Community support is essential for a strong program. Survey businesses and approach local leaders and decision makers for their input. Definitely keep the political climate in mind; this can be important in moving your initiative forward.
Additional Resources:
4. Consider specific requirements for your state.
Each state is different, so it's time to discuss your specific plan with state staff. Agricultural education leaders are typically part of the Department of Education or Department of Agriculture; reach out to yours to ask these questions about next steps.
Additional Resource:
5. Outline your timeline and plan for action.
As mentioned before, this process can be lengthy. At this point, now that you've secured student and parent interest, recruited community support, and consulted with state staff, staying on track is more important than ever. Create a timeline and task list to keep the project on track. Here's an example.
6. Create a steering committee and a community campaign.
7. Organize your agricultural education curriculum.
A quality agricultural education curriculum is formed around the needs and career opportunities i