In March, the combination of unrelenting rain and snowmelt led to catastrophic flooding in the Midwest. Rising waters caused more than $1.3 billion in damages in Nebraska where farmers were hard hit, losing barns, crops and livestock.
"One of the biggest needs is hay," explains Alex Wiebelhaus of her town of Verdigre, Neb., and its surrounding area. Wiebelhaus is the FFA advisor and agricultural education instructor at Verdigre High School. "The fields flooded and the hay washed away or the water is so high that farmers can't get to it to feed the cattle, sheep, goats and pigs that survived the flooding."
Farmers from other states shipped trucks filled with hay, feed, fencing supplies and other essentials to flooded areas across the Cornhusker state, and Wiebelhaus dispatched students from her FFA chapter to help sort and organize the donations. Students from the Osmond FFA Chapter and the Crofton FFA Chapter also traveled to Verdigre to help.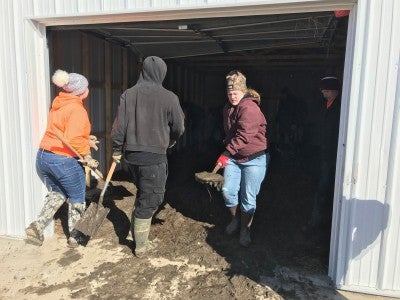 "When a disaster like this happens, you have to come together to clean it up," Wiebelhaus says. "FFA is about living to serve, and these students wanted to work together to help this town."
Although Verdigre received less flood damage than other areas of Nebraska, Verdigre High School sophomore and FFA member Dominic Pavlik still found the devastation overwhelming.
"It was a horrible sight," he says. "Everything I remember from when I was a little kid was under a foot of water."
Pavlik was among the students who pitched in to help clean up the high school football field, removing debris from the gridiron, scraping mud off the bleachers, sorting through damaged equipment and power-washing the bathrooms, concessions and the sports equipment that could be salvaged. Other students, including sophomore Levi Robinette, also spent their weekend cleaning up their high school athletic field with their FFA chapter and agricultural education classmates.
"It was not a great experience to see our town flooded. It made me think about how fast we can lose this town," Robinette says. "Helping out this community is what FFA stands for."
It's going to take some time for Verdigre and other Nebraska towns to get back to normal after the flood. Wiebelhaus is confident that her students will remain active in the relief efforts.
"We are the only [career and technical education] organization in the school, and FFA is the largest community service organization in Verdigre," she says. "We are an important part of this community; we want to do our part to help with recovery."
---
More From the Midwest
FFA chapters across the Midwest have given their time and money to serve Nebraska communities impacted by the spring floods. In addition to the Osmond FFA Chapter and the Crofton FFA Chapter listed above, here are two more chapters that have stepped up.
Iowa's Charles City FFA Chapter and Rockford FFA Chapter traveled to Schuyler, Neb., to volunteer at a family cattle operation that was devastated by the flood. The farm lost several feed yards, and many of its cattle were stranded. The chapters partnered with a local bank and a local cattle club to host a fundraiser on a local radio station to support the trip. In the end, they raised close to $5,000.
The Norwayne FFA Chapter in Ohio raised funds to donate items to Nebraska farm families affected by the floods. The chapter collected $320 in donations from March 21 through March 27. Chapter officers purchased shovels, flashlights, first aid kits, needles and syringes, and personal hygiene products, which were delivered to farmers in need.
To learn how you can help, visit the crisis relief webpage on FFA.org.
JOIN FFA CHAPTERS ACROSS THE COUNTRY IN OUR CHALLENGE TO COMPLETE 930,000 VOLUNTEER HOURS BY THE 93RD NATIONAL FFA CONVENTION & EXPO.
#FFAChallengeAccepted
North Crawford FFA
Wisconsin