When a local farmer donated lumber to the agricultural education program at Clarkdale High School in Meridian, Miss., the students wasted no time putting it to use.
Inspired by an episode of Returning the Favor, a web video series that features stories of people giving back to their communities that FFA advisor and agriculture instructor Toni Buchanan often played in class, students decided to build bunk beds for local foster children. The response was immediate: Students had requests for nine bunk beds.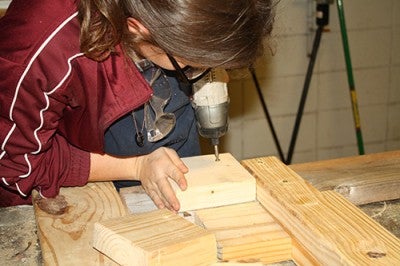 "As a foster parent with two foster children, I see the need up close, and I knew it was significant," Buchanan says. "The impact of the beds on the people who need them is great, but what is even greater is the impact it has on the students who get to see how excited the parents and children are to have these beds."
As word about the project spread, Clarkdale FFA received an ever-increasing number of requests for bunk beds. Since the Build-A-Bed project launched in March 2018, foster families, shelters and veterans organizations have all reached out to request beds.
"We knew that if we kept building, we were going to run out of lumber," Buchanan recalls.
The chapter secured a $3,000 Living to Serve Grant to purchase additional lumber, and local organizations have provided additional resources. Contractors donated lumber and screws, financial contributions helped purchase mattresses, and a campus organization called CHS Leads collected blankets. During community build nights, volunteers come to help assemble beds.
"Our grant covered the construction of the beds, but our community has made sure no bed goes without a mattress or a blanket," Buchanan says.
Other FFA chapters across Mississippi started their own Build-A-Bed efforts in response. In the last two years, 32 chapters have built 140 bunk beds.
Clarkdale FFA member Landon Conklin believes the project is having a positive impact on community members and students.
"To see how grateful these families are for the beds we build – it's an experience that all FFA members should have," Conklin says. "It's a way for us to have a big impact. We want to do our part to get the entire state of Mississippi off the floor."
JOIN FFA CHAPTERS ACROSS THE COUNTRY IN OUR CHALLENGE TO COMPLETE 930,000 VOLUNTEER HOURS BY THE 93RD NATIONAL FFA CONVENTION & EXPO.
#FFAChallengeAccepted
Taylor County FFA
Kentucky