In 1998, Randy Thies got a call from Sarasota County Schools asking if the Sarasota Vo-Ag FFA Chapter at Suncoast Technical College could take care of cats and dogs belonging to first responders during an upcoming hurricane.
The school had no formal disaster plan for animals back then, but Thies, the agriculture teacher and FFA advisor, agreed to provide shelter and care for 35 companion animals. It sparked a tradition of pitching in during disasters.
"When hurricanes come through, there is a huge need for volunteers to come in and help with the animals," Thies explains. "It just continued to grow."
Over the past two decades, Suncoast Technical College has joined a handful of other local schools to turn their campuses into makeshift shelters for animals in need, and the FFA chapter has become an integral part of the disaster response team in Sarasota, Fla. During Hurricane Irma in 2017, FFA members helped care for 1,500 animals sheltered in three county schools.
This community dedication isn't limited to Sarasota. FFA chapters across the country are creating disaster plans to help the animals in their communities during natural disasters, ranging from hurricanes, floods and wildfires to threats to their schools. Their responses are often essential to weathering catastrophic events and rebuilding in the aftermath of a tragedy.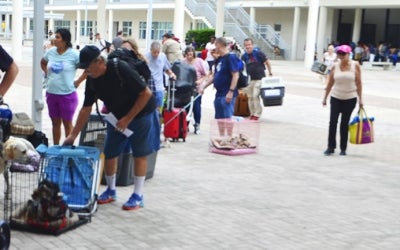 During Hurricane Irma in 2017, community members in Sarasota, Fla., brought their pets to Sarasota Vo-Ag FFA for care.
Preparing for the worst
As part of its' disaster plan, the Sarasota Vo-Ag  FFA Chapter participates in annual trainings that involve disinfecting and setting up kennels to ensure the process is seamless in the event of a hurricane or other natural disaster.
The kennels were harder to set up than students expected, some members admit.
"When there's a hurricane coming, it happens super fast, and it's good to know how to do everything in advance so we can just start loading up and getting ready and automatically know what to do," says FFA member Whitney Langdon. "We want everything to be perfect."
Members also received training through the American Red Cross and the Florida State Animal Response Coalition, a nonprofit organization that trains volunteers to save and protect companion animals during natural and manmade disasters. The training mirrors the lessons Thies teaches in the veterinary assisting class.
"A lot of students love animals and want to go on and be veterinarians or work in animal care facilities," Thies says. "Getting the background of helping animals and communities when a storm comes is good for them."
L