As an education ranger, this FFA alumna spends time interacting with park visitors, delivering school programs and teaching others about natural resource systems.
Extemporaneous public speaking can be one of the most challenging leadership development events to participate in. Competitors need a breadth of knowledge on countless topics. They also need the ability to craft a speech quickly and then deliver a talk they haven't practiced in front of an audience. For Katie Anton, an education ranger at Acadia National Park in Maine, these moments prepared her for her future more than any other as a member of the Lyman Hall FFA Chapter in Connecticut.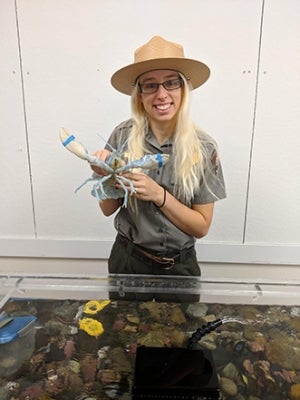 "As a park ranger, you might be surprised to learn that I get up in front of a group of people and speak multiple times a day," Anton says, "Learning the tips and tricks for doing this confidently while I was an FFA member really helped form my career."
While Anton no longer wears her blue corduroy jacket in front of a crowd, she does pull on a green windbreaker, lace up her boots and educate thousands of park visitors every year on forest diversity, marine biology, nocturnal animal adaptations and more. For some FFA members, this image may reflect their agricultural education advisors. In fact, Anton initially chose to study education in college. It was there she discovered she preferred nontraditional classrooms and looked at alternative options. One spring, she became an education intern for the National Park Service, and the "Doing to Learn" line of the FFA motto became a way of life.
"I have always believed that you have to get your hands dirty in order to fully understand a topic," Anton says. "I teach the younger park visitors by using hands-on fiel