If John Niemann had been skilled in mechanics as a young man, he probably would not be the person he is today—at one of the world's largest providers of food, agriculture and risk management products and services.
"My dad wanted me to overhaul the engine on his lawn mower, so I signed up for FFA," explains Niemann, president of Cargill Protein—Ingredients & International. "I learned pretty quickly that was not my skill set, but because FFA had so many other things that I liked, I kept going. It's the best thing that ever happened to me. I wouldn't be here if it weren't for FFA.
The Atchison County FFA Chapter in Effingham, Kan., cultivated his passion for leadership throughout high school. He served as district and then state officer, and he became state president in college. Niemann now presides as chair on the National FFA Foundation Sponsors' Board.
"FFA guided me in a direction and gave me a vision for what I wanted to do and created a passion that I had in me that I didn't know was there," Niemann says. "It cultivated that, and I feel very blessed that I had that experience. Being on the board is to give back, and I hope that it can help expose other students to the same type of experience."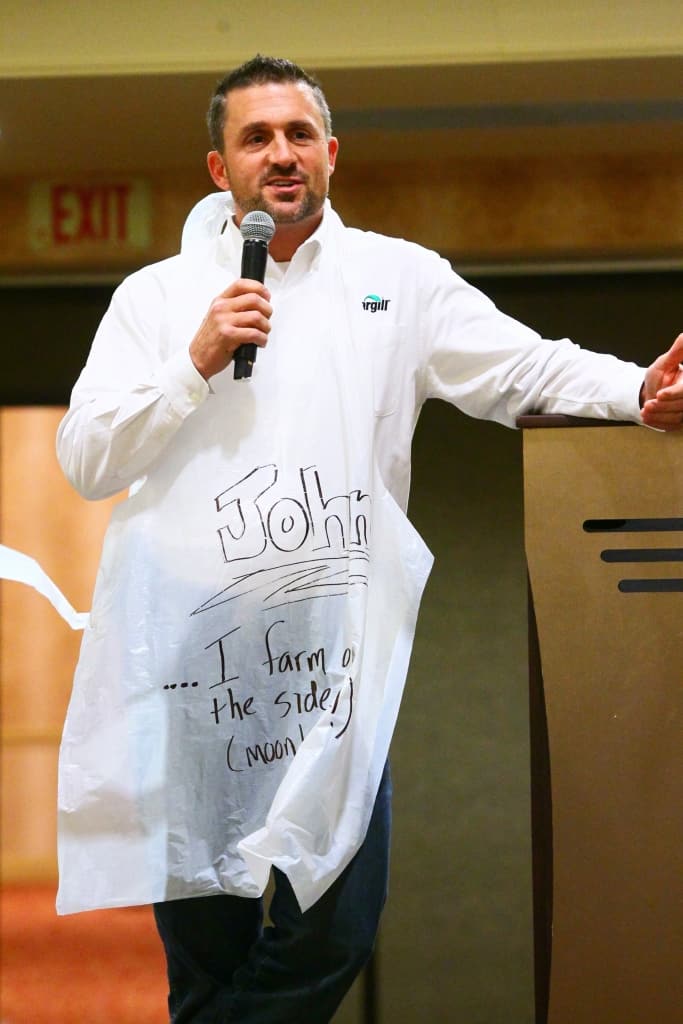 His experience isn't unique, which is one of the reasons Niemann takes great pride in working for the global agriculture company that's been a dedicated supporter of National FFA for almost 60 years. A silver sponsor, Cargill has donated nearly $15 million and committed the time of hundreds of employees (many of whom are FFA Alumni).
The Cargill-FFA partnership just makes sense. "We value our people and the development of people; we care about feeding the world and doing the right things the right way. There's a lot of focus on integrity and strong character at Cargill," he says. "FFA helps cultivate all those things, which prepares youth for a career at a company like ours. There's a tight connectivity between the skill sets and character that are developed in FFA and what we look for in employees."
Each year, a one-day program called "A Glimpse of Cargill" invites members of local FFA chapters to learn about the myriad career opportunities available. But it's likewise a profound learning experience for Cargill executives—especially those who don't come from an FFA background.
"We have roundtables where these students get up and speak, and every time they do, it affirms their professionalism, talent, focus and willingness to learn," Niemann says. "Our folks are always super impressed, seeing 14- to 18-year-olds with such great communication skills and confidence to talk to adults. It's highly encouraging of a youth organization that builds that kind of confidence in young people."
Cargill Vice President of Corporate Responsibility and Sustainable Development Michelle Grogg describes it as a simpatico relationship. "We firmly believe in the values within the organization, and within FFA's membership are Cargill's future employees, leaders, and customers," Grogg says. "By supporting FFA, we help ensure the future success of Cargill and agribusiness overall. We're proud to be part of FFA's legacy and success."
She credits the organization's agricultural education programs and hands-on learning for developing young people's early commitment to agriculture. It's where they learn the leadership, organizational, team-building, public speaking and interpersonal communication skills that will keep the industry strong, according to Grogg.
"These important skills build confident and strong individuals who will be the next leaders in the food and agriculture industry. This is why other corporations should engage with FFA and the talent pipeline for the future workforce," she says. "FFA brings together the best and brightest young minds to create awareness and enthusiasm to ensure a stronger future for our industry."
A father of two current FFA members, Niemann also looks through a personal lens of teens transforming into tomorrow's leaders. "If you want talent that will lead your company in the future, then invest in it early and start with FFA," he says. "Those students will be the leaders of the future who you'll want in your company."
"We support the great work of FFA and its member because they have an essential role in helping the agriculture and food industry address critical issues like sustainability, traceability and feeding a growing population," says Grogg. "FFA, like few other organizations, brings together the best and brightest young minds to create awareness and enthusiasm to ensure a stronger future for our industry."