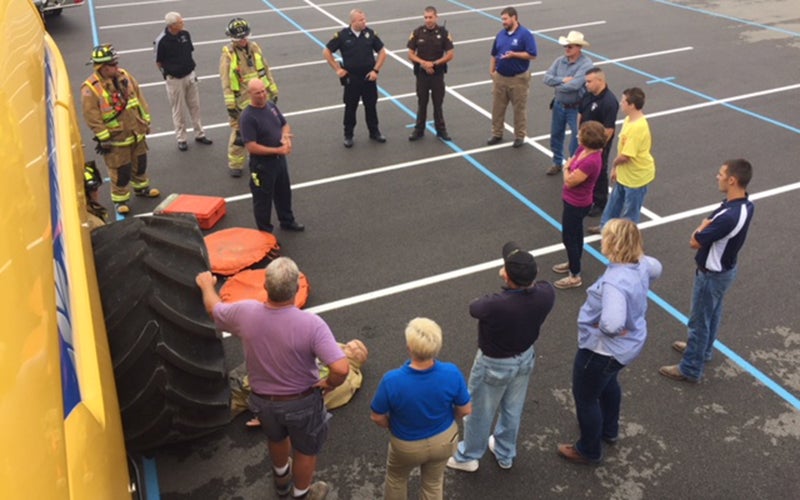 Last summer, the parking lot at Greensburg Community Schools in Greensburg, Ind., was transformed into a rescue scene. A training mannequin named Rescue Randy was trapped beneath a combine and at risk of bleeding to death. First responders taught a group of local farmers basic techniques to help stop the bleeding until help arrived.
"The response time to get to an accident scene in a rural agricultural setting can be 30-plus minutes," says Greg Schneider, the agriscience teacher and FFA advisor who coordinated the training.
The Greensburg FFA Chapter started hosting trauma training events in 2016. The first, designed for students, was funded through a Living to Serve Grant. Teachers and support staff at Greensburg Community Schools participated in a second event last spring thanks to a Day of Service Mini Grant.
Schneider wanted to leverage partnerships with the local police and fire departments, paramedics, hospitals, trauma centers and equipment dealers to provide training for farmers.
Nurses came to the 2018 event with cuts of beef sliced to represent flesh wounds and oozing barbeque sauce to simulate blood. Farmers learned how to stuff gauze into the wounds to stop the bleeding, wrap injuries and apply tourniquets.
One trauma kit filled with supplies such as bandages, gloves and quick-clot products was provided to each farm operation in attendance. Proceeds from the local Harvest a Row initiative (a program that encourages grain farmers to donate proceeds from a specified number of bushels when selling their grain at the elevator) funded the kits.
While the hands-on experience was invaluable, Schneider believes the training also sparked meaningful conversations between local partners that will be instrumental in saving lives.
"If a farmer becomes entrapped in equipment, it's not going to happen on the side of the road; it's going to be in a remote field," he explains. "Equipment dealers explained that GPS technology in the equipment can pinpoint the exact location, and they encouraged first responders to call the dealerships for [GPS] coordinates. It could be huge for cutting down on response times."
Schneider called grant funding "critical" for offering the programs. He hopes to use future grants to offer the training on an annual basis. In addition to providing trauma training to new groups, previous participants will be invited back for a refresher.
"We had tremendous support from our community, and we want to build on that," Schneider says. "It was great to see the synergy when people came together with the goal of learning skills that can hopefully save lives."
Learn more about a variety of available FFA grants and scholarships, and apply for one yourself.
JOIN FFA CHAPTERS ACROSS THE COUNTRY IN OUR CHALLENGE TO COMPLETE 930,000 VOLUNTEER HOURS BY THE 93RD NATIONAL FFA CONVENTION & EXPO.
#FFAChallengeAccepted
Taylor County FFA
Kentucky
Carlisle County FFA
Kentucky