Members of the Clarksville FFA Chapter includea barrel racing champion and a fledgling cattle farmer who are learning about agriculture and developing leadership skills alongside classmates from countries including Mexico, Thailand, Laos, Vietnam and Albania. As it turns out, most FFA members of the Arkansas chapter are more familiar with growing tropical fruits and vegetables (or have no experience in agriculture at all) than growing cotton and raising cattle.
"We live in a small town, but within our population of 9,000, we have a huge diversity of people and cultures," says Libby Sanderson, the agriculture teacher and FFA advisor at Clarksville High School. "We all learn from each other."
Of the 2,541 students enrolled in the Clarksville School District, 658 students are considered to be active English learners, or students whose first lan- guages are not English. The Clarksville FFA Chapter is recognized as one of the most ethnically diverse in the nation, which creates a rich learning environment with opportunities to foster cross-cultural collaborations and develop understanding and deep friendships.
Designing a Diverse Curriculum
At the same time students born outside the U.S. are learning about how food is grown and raised here, American-born students are learning about food and agriculture in other countries. The students have gone out to dinner together at several restaurants, sampling carne asada with tortas at a Mexican restaurant and pho, a traditional broth soup, at a Vietnamese restaurant. Even foods served in the school cafeteria were unfamiliar to some of the students.
"Our school lunch programwasquiteashock to them," Sanderson recalls. "Seeing a chicken nugget for the first time, when you have not seen chicken in that form, was scary to them."
Ingrid Ordaz, 16, grew up in Mexico and had never tried Vietnamese foods before. She liked the bubble tea but admits that the pho was not her favorite.
For American-born students, the experiences with unfamiliar foods lasted just a few meals. For students such as Maree Voie, Kmwee Paw and Aw Mee, all members of the Karen ethnic group who grew up in Thailand, living in Arkansas requires near-constant introductions to new foods.
At the Arkansas State Fair, the stands selling pizza, corn dogs, nachos and deep-fried candy bars were overwhelming. Most of the Karen students packed their own lunches, and one student worried he might get diabetes from eating the foods at the state fair.
Aw Mee, 18, of the Karen tribe in Thailand, confesses that she didn't like pizza the first time she tried it. "We usually eat rice and vegetables," she says.
Hot peppers are another essential ingredient in Thai food, and students from the Karen tribe like to see how their classmates with sensitive taste buds react to the extreme heat. Sanderson jokes that her Thai students like to sneak hot peppers into foods and offer them to classmates. "When I ask what they want to grow, my students from Thailand always bring in hot pepper seeds," she says.
Clarksville FFA members are also willing to test their taste buds. Eh Ka Paw, 17, counts FFA judging competitions among his favorite and most memorable activities. The event gave the Thai student a chance to sample unfamiliar foods, including cheese.
"Karen people don't eat cheese," he says. "I learned a lot of stuff and had a lot of fun."
Cultivating a Culture of Learning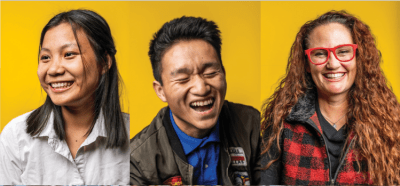 Thanks to their differences, Jessie Garrison, 16, a sixth-generation Arkansas farmer who participates in cattle roping and barrel racing events across the country, thinks the chapter offers more robust opportunities to learn.
"I joined FFA because I wanted to meet different people," she explains. "I think the chapter is special because we can learn so much from other students."
Sanderson developed the curriculum to honor those differences. In lessons about plant science and agriculture mechanics, she invites students to share information about how their families raised
"We realize that we're all different and we don't look like the other FFA chapters, but I on't want us to look like the other FFA chapters." – Libby Sanderson
animals, grew crops or built and repaired farm buildings and equipment in their countries of origin. Student interests also help guide the lessons.
"A lot of the students from Thailand like to hunt and are into conservation; they think Americans waste a lot and they don't like to waste anything," Sanderson says. "I thought, 'We're on to something here.'"
Sanderson transitioned from classes in plant science to a curriculum focused on natural resources. Agricultural education students learn about land use, stewardship, water quality and energy, and the ways their actions influence the natural world.
Isabel Gonzalez, 17, signed up to be part of the new Arkansas Stream Team, a program of the Arkansas Game and Fish Commission that invites citizens to participate in stream and watershed con- servation.
"I signed up for the Stream Team because it was a new opportunity and I wanted to see what it was all about," Gonzalez explains. She has already learned how to dissect a crawfish.
Clarksville High School students might tease each other about their food preferences, but among the good-natured ribbing, the teens are learning about agriculture, connecting to the sources of their food, developing leadership skills and making friends.
Laykin Williamson, 14, runs a commercial cattle business. Although the first-generation farmer raises a herd of 36 registered Angus, she knew that join- ing FFA would expand her knowledge of agriculture and allow her to develop leadership skills.
"I wanted to join FFA to further my leadership skills," Williamson says. "I wanted to learn to relate to people who come from different backgrounds to learn how what we do [with food and agriculture] is different from what they do, and understand how we can still come together to share our experiences and enjoy agriculture. I've made some good friendships with people who come from different backgrounds, and we're all starting to under- stand each other."
As Williamson prepared for a Creed speaking leadership development event competition, she decided to ask classmates and FFA members who spoke Spanish and Sgaw, the language of the Karen tribe, to translate the Creed after her reading. The invitation, Sanderson says, reflects the ways that students look for opportunities to weave all of their cultures into FFA chapter activities.
At the Arkansas FFA state convention, students from Clarksville FFA appreciated opportunities to share how the diversity in their chapter enhanced both their classroom learning and their leadership skills. Sanderson encouraged students to be proud of the ways their chapter stood out.
"We realize that we're all different and we don't look like the other FFA chapters, but I don't want us to look like the other FFA chapters," Sanderson says. "I want us to embrace who we are. We're happy to be us."
---
Clarksville: By The Numbers
The Clarksville School District in Arkansas has a total population of 2,541 students who speak more than 10 different languages at home, including Spanish, Sgaw Karen, Marshallese, Vietnamese, Albanian, Hmong, Gujarati, Filipino and Laotian.
The FFA chapter at Clarksville High School is one of the most diverse in the nation. In the 2019-20 school year, 52 students signed up to participate in FFA, including 10 Hispanic students, 10 Asian students and three African-American students.
Although the