In the small town of Magdeburg, Germany, Nina Perlberg never planned to take over her father's farm as a career. In fact, less than 10 percent of the German population works in some kind of agricultural field. So, when Perlberg took part in a high school exchange program during her junior year to Kingsport, Tenn., joining the Dobyns-Bennet FFA Chapter wasn't on her radar.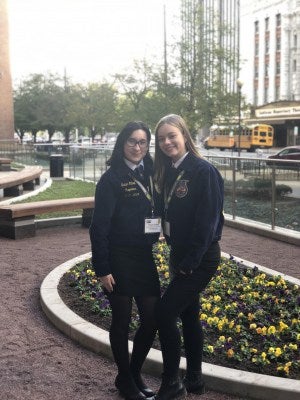 "I was speaking to other exchange students and they said the most welcoming club to join was FFA," Perlberg says. "It seemed crazy to join a group of Americans who spent their time studying soil profiles, tree species and milk quality. But it ended up being one of the best decisions in my exchange year."
After joining the chapter, competing in a number of career development events and attending National FFA Convention & Expo, Perlberg knows that taking this one piece of advice has changed her future.
"My FFA advisor became more than a teacher in a short amount of time," says Perlberg, who is now back home in Germany. "She treated all of us like her own children and was always there for us. Everyone in our chapter was always there for each other, and that is one thing that I think makes FFA unique. No matter where you go, blue jackets will always stand together and be open-minded to meeting students from other chapters."
FFA chapters across the country have opened their doors to exchange students from all over the world. Perlberg recommends showing extra patience and grace when working with new, international chapter members. Find more resources for promoting diversity and inclusion in your chapter at FFA.org/Diversity-And-Inclusion.