FFA Drone Ground School helps these members explore some of the career possibilities in modern agriculture, including agricultural aviation.
Through FFA Drone Ground School, members of the Utopia FFA in Utopia, Texas, have the valuable opportunity to learn more about the high-tech ag tools that are quickly becoming necessities on modern farms and in the wildlife management sector.
According to Amanda Dean, Utopia FFA advisor and agriculture instructor at Utopia High School, FFA Drone Ground School was created in March 2019 after the chapter applied for and secured a $5,000 grant from the Texas Women in Agriculture. The grant funds were used to purchase five Yuneec Q500 4K Typhoon RTF Quadcopter Drones, which include video monitors in their remote controls. The drones give students the chance to view local farms, ranches and wildlife from above in real time.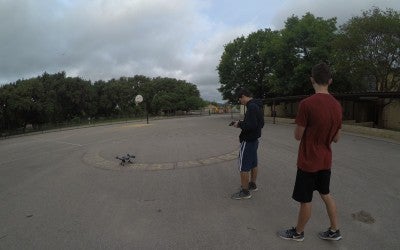 "We wanted to survey wildlife using drones because it's a less invasive way of auditing and examining animals while covering a large area," Dean says. "In fact, a lot of today's wildlife conservationists are using drones to complete population counts, so it made sense that we would bring drones into our Wildlife Management class as soon as we could."
Dean's students enjoyed FFA Drone Ground School so much that they decided to obtain Remote Pilot Certificates from the Federal Aviation Administration, and each student received a scholarship covering the cost of their certificates. As a result, members like 16-year-old Christian Cervera are already prepared to pursue lucrative careers as drone operators.
"The technical side of drones is really interesting to me, and it's been a cool experience to use this technology and to see the world around me in a whole new way," Cervera says. "Before taking FFA Drone Ground School, I had no idea how useful and impactful drones could be, and I'm very interested in exploring careers that involve these tools."
Going forward, Dean plans to create and implement a class focused entirely on operating unmanned aerial vehicles and the ways in which students can capitalize on those skills in the future – particularly in agriculture.
"It's amazing that we've been able to bring this technology to our FFA members because it has the potential to open so many new doors for them, including a wide variety of career opportunities in ag that they may not have realized existed," Dean says. "I encourage other FFA advisors to dive into the world of drones, too, because it's a great way to draw more members to your chapter and increase your reach as an ag teacher."
To learn more about agricultural aviation careers, visit AgExplorer.com.