When members of the Woodbury FFA Chapter heard about the wildfires in Australia and their devastating impacts on local wildlife, they knew they wanted to help.
"Most of the animals that were being affected were the iconic Australian animals like koalas and kangaroos we learn about when we're little and we see in zoos," explains Meghan Kostka, 16, an FFA member and junior at Nonnewaug High School. "We take veterinary science and natural resources classes, and a lot of the students care about protecting the environment and wildlife. We were moved by what was happening."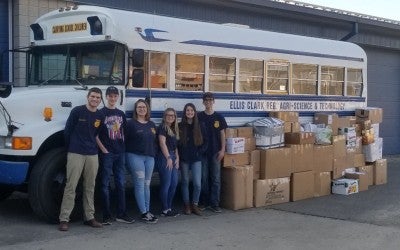 FFA members learned that the Connecticut Veterinary Center planned to send veterinary medical supplies overseas, so they offered to help.
The Chapter Enhancement Committee, including chapter president Anna Graf, parliamentarian Matthew Syrotiak, Rachael Dillon, Shelby Rushin, Tyler Leonard and Jacob Wilmot, set up donation boxes in the agriscience classrooms and asked students, teachers and residents of their Woodbury, Connecticut, community to drop off bandages, adhesive dressings, rubbing alcohol, burn creams, antibiotics, gloves and other medical supplies to help Australian wildlife veterinarians care for injured animals. The chapter also collected monetary donations to help offset the cost of shipping.
Agriscience teacher and FFA advisor Marisa Bedron notes that the chapter has held successful donation drives in the past, but its request to help animals affected by the wildfires in Australia garnered much more support than expected. In the course of the one-week donation drive, the chapter collected enough donations to fill a school bus.
"It was very overwhelming and very heartwarming at the same time," Bedron says. "We love to see FFA members step up as leaders, taking the impossible and making it possible, and this [fundraiser] was an example of that."
Kostka believes the project embodied the FFA Living to Serve motto while showcasing the power of the community to come together in times of tragedy.
"Even though Australia is so far away and it wasn't a problem that directly affected us, so many people cared enough to donate or purchase supplies that were sent to a place they may never even get to visit," she says. "You have to help your neighbors even if they're not right next to you."
JOIN FFA CHAPTERS ACROSS THE COUNTRY IN OUR CHALLENGE TO COMPLETE 930,000 VOLUNTEER HOURS BY THE 93RD NATIONAL FFA CONVENTION & EXPO.
#FFAChallengeAccepted
North Crawford FFA
Wisconsin