COVID-19 has hit the United States' dairy industry hard as the food service industry itself sees great impacts from the pandemic, too, and supply chains are disrupted. In the wake of the dairy industry's struggles and National Dairy Month, a Michigan FFA chapter is getting milk to community members in need.
Ithaca FFA in Michigan began its partnership with the school's meal distribution program after advisor Keri Howell saw another FFA chapter giving out milk via an FFA newsletter. After consulting with the chapter's officers, Ithaca FFA purchased 50 gallons of milk from a local store to donate during the school's weekly meal pick-up program on May 4, using funds originally set aside for the chapter's end-of-year celebrations.
After Howell posted information about the milk distribution on the chapter's Facebook page in the project's initial week, she said a local dairy reached out to pledge 100 gallons to donate in the next week.
"Since then, there's been two major dairy farms that've teamed up and they're donating at least 100 gallons every week," Howell said, adding that, so far, the chapter has been able to distribute every gallon of milk it purchased or received through local dairies' donations.
Because of Michigan's stay-at-home order, Ithaca FFA members themselves have not been able to hand out milk, but chapter president Ellie Martyn said the officer team has promoted the milk donation initiative through social media.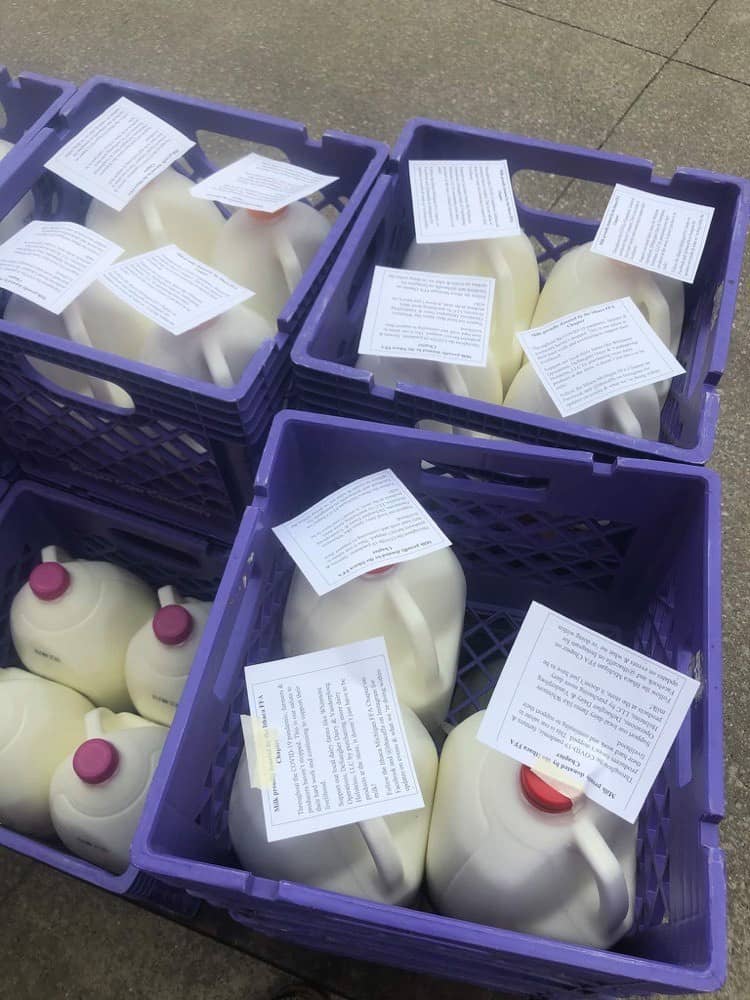 "Our reporter Mariah Fabela made a video and posted it, and many of our members shared it to get the word out for families to come and get milk," Martyn said. "I was also able to help make the tags that went with every gallon encouraging people to support local dairy farmers and those around them during these hard times."
Howell said the dairies that are partnering with Ithaca FFA are not among those that have had to dispose of milk during this pandemic; they just want to give back and help the community.
"We're blessed to have their great support for this, and the fact that they decided not to just donate once, but just to continue donating, that's something that people can count on," Howell said.
Martyn said the chapter has seen tremendous community support for this project.
"Our post on social media was shared almost a thousand times, which gained our page a lot of new foot traffic, which helps spread the word of what our chapter is doing to further our community," Martyn said. "It has also given us a chance to share our original message of supporting local dairy farmers and community members in need as well as share what the FFA is to those that may not know."
To watch a video about the chapter's efforts, visit the chapter's Facebook page.
June Is National Dairy Month
Ithaca FFA is just one several FFA chapters and members giving back to their communities in time for National Dairy Month. As you celebrate the dairy industry during this month and beyond, check out these resources:
Living to Serve During National Dairy Month
Because of Covid-19, area ag producers were suffering to market their products. Scales Mound FFA and Lena-Winslow FFA of Illinois worked together to create and sell yard signs to boost the purchase of dairy products. The chapters used funds raised from the sale of yard signs to purchase dairy products for the local food pantries. To learn more about Living to Serve grant opportunities, visit here.