"In agriculture, we know how to buckle down when resources are tough and make the best of it," says Bret Spurgin, the agriculture teacher and FFA advisor at Charles City High School in Charles City, Iowa.
In the midst of the COVID-19 pandemic, that looks like making personal protective equipment (PPE) with a 3-D printer. When school is in session, Spurgin's students use the printer as part of a precision tools class or to create prototypes for agribusiness marketing projects. When the school closed in March, Spurgin set up shop in his house after a local nursing home reached out for help. "I'll continue as long as there's a need," he says. The school has committed to cover all expenses.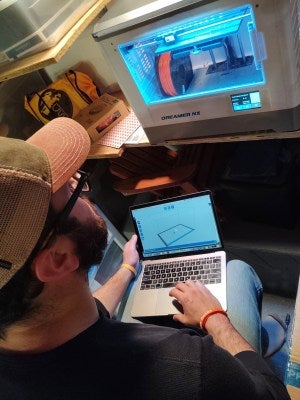 Spurgin has made at least 50 face-shield visors, 10 face masks, 20 contact-free door openers and more than 100 ear guards. Twice weekly, he distributes the items to both the nursing home and the school's lunch program. The ag department recently purchased a second 3-D printer to help increase output. (For reference, in an hour and a half, Spurgin can print one visor or eight ear guards. Some face masks take five to eight hours each.)
"We're just trying to help out how we can," Spurgin says. "The best thing an FFA chapter can do is support its community."
It's a sentiment his students share. After recognizing the pandemic's effect on food security, the Charles City FFA Chapter vice president, Lauren Connell, contacted the local food bank, and members have joined in distributing boxes each week. The chapter adds this project to a service-learning resume of growing vegetables for the community, maintaining garden boxes downtown and helping clean up Nebraska farms after the 2019 floods.
Spurgin says he hopes the 3-D printer continues to service the community postpandemic, too. "I'd love to see students build community partnerships through this," he says. The idea: Institute a senior-level advanced manufacturing class in which students receive orders from local companies and individuals, then they create the items and operate the business start to finish.
"Just look at the FFA Creed," Spurgin says. "'I believe … in the ability of progressive agriculturists to serve our own and the public interest in producing and marketing the product of our toil.' What agriculture has always been really good at is taking current technology and utilizing it in the best way." That's what Spurgin is doing and his students will continue to do.
Looking for ways your chapter can serve during social distancing? Here are five.