Korey Bunselmeyer was 12 years old when he planted his first acre of sweet corn. His goal: Sell it at the annual 4th of July festival in his hometown of Jacob, Ill., and save the money to buy a pickup truck when he turned 16.
The corn sold out. The following season, Bunselmeyer planted an additional acre of sweet corn along with a 1-acre vegetable patch. He set up a produce stand at the 4th of July festival and looked for more opportunities to sell fresh produce in his community.
"My doctor was telling me that he was looking into a program that delivered a box of vegetables to his door," he recalls. "I asked, 'How about I throw together a box of my vegetables and bring it to you next week?' He agreed."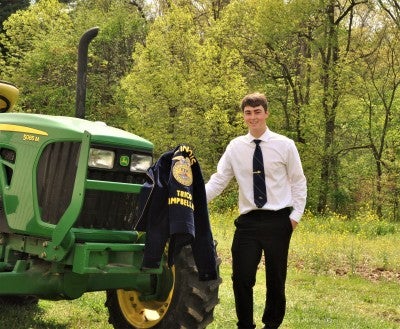 The first order led to several more, and Bunselmeyer watched as his garden — and his savings account — continued to grow.
In 2016, Bunselmeyer officially launched Korey's Krops. He set up a Facebook page to market 5- and 10-pound boxes of produce, and he started selling to an ever-increasing number of customers. Still too young to drive, he hired his cousin to take him out on deliveries.
Over the past four years, Korey's Krops has grown to include 4 acres of sweet corn and fresh vegetables. This season, he's filling orders for 500 pounds of produce every week. The Trico High School student and FFA member purchased a greenhouse and added lettuce and strawberry bowls to his offerings. He talks all of his ideas over with his agricultural education teacher and FFA advisor Jason Huseman.
"It's awesome to see him put his ideas into action," Huseman says. "He even gives me ideas to start in the school greenhouse."
In the fall, Bunselmeyer decorates local yards and businesses with homegrown decor such as pumpkins, gourds, cornstalks and straw bales. He also transforms fresh greens into wreaths at Christmas.
Although he never planned to be a farmer, running a successful agriculture business convinced Bunselmeyer to dig into his agricultural roots. He was a 2019 Vegetable Production Proficiency Award Winner and a 2020 winner for his agricultural sales entrepreneur supervised agricultural experience (SAE).
This fall, he'll attend Rend Lake College in Ina, Ill., to study agriculture, and he plans to run the business from his dorm room. He now has a pickup truck to make all of his