This Wisconsin FFA Alumni and Supporters chapter has a long record of raising funds to support its local community.
It's no secret that the National FFA Organization encourages members to participate in local service projects and to give back to their respective communities, but it's not just current members who take that message to heart. Many FFA alumni and supporters chapters are working hard to make a difference, too, setting an important example for the younger generation.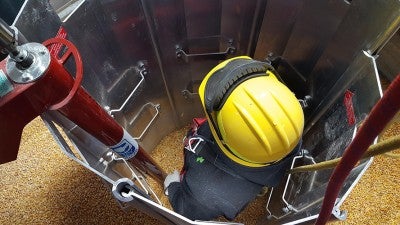 For example, the Viroqua FFA Alumni and Supporters Chapter, which supports the Viroqua FFA in Wisconsin, raised and donated $6,000 to the local fire department in late 2017 to purchase a grain bin rescue device, replacing make-shift plywood rescue equipment used previously. In addition, the funds helped cover the costs of associated rescue training that was also available to firefighters from nearby communities within the state such as Ontario, Stoddard and Yuba.
"Our fundraisers are usually very successful, and we try to give back to the community as much as we can," says Carl Zube, Viroqua FFA Alumni and Supporters president and former president of the Viroqua FFA. "That's why we decided to help out with the grain bin rescue equipment and training for the Viroqua Fire Department. We saw a need in our town and we wanted to meet it. Plus, this cause was both community and ag-related, and it seemed like a perfect way for us to help out."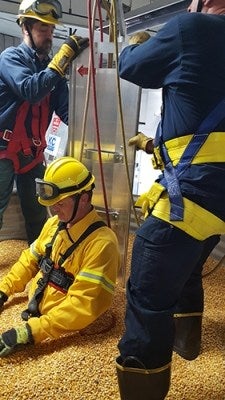 This wasn't the first time the group contributed to a worthy cause, and it certainly won't be the last. In the past, the chapter raised funds for the Viroqua FFA, helping with the costs of new FFA T-shirts, FFA jackets and a tractor restoration. After a flood in the fall of 2018, alumni and supporters donated $5,000 to help area farmers replace their fencing and agricultural supplies.
Additionally, in January 2019, Viroqua FFA Alumni and Supporters participated in the 10 Gallon Challenge, where they were challenged via the
#10GallonHashtag on social media to purchase 10 gallons of milk and donate them to a local food pantry in an effort to benefit both dairy farmers and families in need. They immediately stepped up.
The chapter also participates in an effort called Hawk Packs, named for the Viroqua Blackhawks mascot, where members compile packs of food for approximately 15 to 18 children in need on a weekly basis.
"As FFA alumni, we have to be leaders and show young people how important it is to give back and to keep that tradition alive," Zube says. "It's also critical for FFA members to know that their involvement in the organization doesn't have to stop at the high school level, and they can absolutely continue to be part of FFA and contribute to its mission as adults."