When the National FFA Officers arrived in Tokyo in January, they continued a long tradition of cross-cultural exchanges between nations.
Former National FFA President George Lewis helped establish Future Farmers of Japan (FFJ) in 1950, and the national officers have visited Japan annually for more than four decades. The longstanding relationship provides an international perspective on agriculture.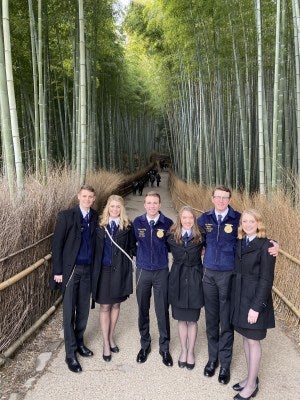 "There were so many times in Japan when I found myself staring with wonder about how different things were," recalls Tess Seibel, eastern region vice president.
The 12-day trip included visits to four cities: Tokyo, Kyoto, Hiroshima and Kagoshima. The six-member national officer team, including Seibel, president Kolesen McCoy and central region vice president Mamie Hertel, visited cultural landmarks such as the Tokyo tower, Buddhist temples and the A-bomb museum, as well as agricultural operations ranging from tea plantations to the daikon radish farm.
Hertel says the officer team was surprised to learn that the farms in Japan averaged just 4 acres in size (compared with an average of 443 acres in the U.S.) The smaller size meant that few farmers used large machines to ease labor shortages and improve efficiencies.
"The farmers are in the fields, working with their hands," McCoy adds.
FFJ members were equally curious about U.S. agriculture and delighted to hear stories from national officers who grew up on farms and ranches. McCoy recalls their reaction when the national officers shared a photo of the average American combine; the size of the machine was overwhelming to them.
Despite the differences, both countries share similar struggles to attract new farmers and to manage succession planning. "There were a lot of common themes such as wanting to grow safe and affordable produce that we see, whether we're talking about tea in Japan or grapes in Virginia," Seibel adds.
The trip also solidified their understanding of agriculture as a global industry.
"The world is diverse and the practices can be very different, but the biggest takeaway was that we can increase our understanding of agriculture when we step outside our comfort zones to experience something different," says McCoy. "Our time with FFJ members showed us that even though we come from completely different cultures and speak different languages, we share a common mission in agriculture that unites us all."