Sixteen-year-old Brayden Lee of Louisiana has been an active member of Boy Scouts of America since he was in second grade. He's also treasurer of the LaSalle High School FFA in Olla, La. In September 2018, those two worlds collided for Lee, and it was a win for everyone in the community.
"I was working to earn my Eagle Scout award, which is the highest rank you can achieve in Boy Scouts and takes many years," says Lee, a junior at LaSalle High School. "The last step of the process is to lead a project that will benefit your school or community."
One year earlier, in the fall of 2017, LaSalle High School's already outdated greenhouse had been severely damaged in a storm, rendering it useless to the school's agriculture program.
"I decided I wanted to restore the greenhouse as my Eagle Scout project," Lee says. "I wanted to make it even better than it had been before."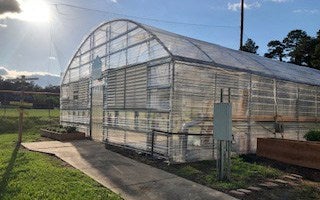 With the help of his FFA advisor, Chris Bennett, his Boy Scout troop, members of his church and fellow FFA members, Lee completed a total makeover on the 30-by-80-foot, commercial-size greenhouse. The project took nine months and was completed in May 2019.
"We basically started from the ground up and rebuilt it completely," he says.
Lee estimated the restoration would cost $5,000, but in the end, the greenhouse benefitted from $15,000 of donated money and materials.
"The project received a lot of publicity, and donations started pouring in," he says. "One business donated cedar boards, and we were able to add an outside raised garden, compost bin and shelving on the inside. We re-covered it with a more durable roof. It was like a domino effect because more and more people got involved, and the project got bigger than I envisioned."
Volunteers donated 1,393 service hours to the project.
Community Impact
The school's agriculture students are now growing fruits and vegetables in the greenhouse that will benefit both the school cafeteria and the community.
"The newly renovated greenhouse will impact our community and school buy providing an outlet to buy fresh vegetables during a time when fresh vegetables are in limited supply. We will also have the ability to educate students on the processes of planting, growing and marketing a variety of plants all year long," Bennett says. "Our local school board has also agreed that purchasing the fresh vegetables from our greenhouse will not only help our chapter but also will be cost-effective for our school nutrition program."
Lee is excited about how the greenhouse will impact his community for years to come.
"We had some challenges along the way, but in the end, it was a really great project, and I'm super proud of it," he says. "It showed that you can do anything if you just put your mind to it."
Check out Lee's Facebook page called "Go Green–Eagle Scout Project" to watch videos and to read more about the project.
JOIN FFA CHAPTERS ACROSS THE COUNTRY IN OUR CHALLENGE TO COMPLETE 930,000 VOLUNTEER HOURS BY THE 93RD NATIONAL FFA CONVENTION & EXPO.
#FFAChallengeAccepted
Taylor County FFA
Kentucky
Carlisle County FFA
Kentucky