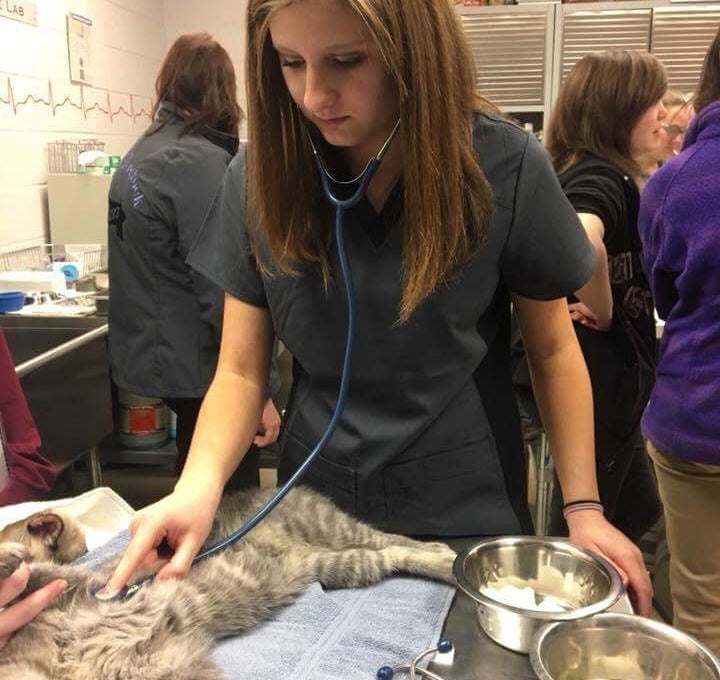 National FFA Week is a time for members to share with others how they positively impact their communities. As FFA members from Munford, Tennessee, know, this can mean improving the lives of people and their pets.
In the United States alone, there are an estimated 70 million feral cats roaming city streets, suburban parks and abandoned barns. Stray cat populations can grow rapidly due to their quick breeding cycle and can be a hazard to public health and safety. In order to combat this rising issue and to take action to serve their community, FFA members from the Munford FFA Chapter in Tennessee partnered with the local animal shelter to hold a Neuter-A-Thon.
The Neuter-A-Thon was a community service project supported by an FFA Day of Service Mini-Grant to spay and neuter cats from the animal shelter and feral colonies in the community. Students from the veterinary science lab at Munford assisted local veterinarians in conducting the surgeries, capturing the feral cats, and developing plans for rerelease or adoption.
"There was a significant need for this type of event in our community and the local adoption shelter as they use a voucher program to sterilize adopted cats," says Clair Hammond, Munford FFA advisor. "However, this still requires new pet owners to make an appointment with a veterinarian after adoption. Appointments are often booked for up to three months in advance, and this can lead to a new family pet becoming pregnant before the procedure can be completed."
In order to prepare for such a service project, FFA members developed a plan using the project planning resources from FFA.org. They first researched the sizes and locations of feral cat populations in their community. Then, they developed relationships with the local adoption shelter, small animal veterinarians and animal trapping professionals. Finally, the students gained a deeper understanding of surgical preparation, assistance and post-operative care for the cats that would be collected.
As a result of the Neuter-A-Thon, FFA members initially cared for 48 cats from the community, and all have been successfully adopted, relocated or released. The surgery day was so successful that additional days were added to the project, and more than 500 animals have been spayed or neutered since the beginning of the program. The chapter hopes to help 800 cats within one year. Through the success of this service project and the strong partnership development, Munford FFA Chapter hopes to hire a veterinarian to work with members even more in the future. This day of service will have lasting and long-term impacts, both for the FFA members and for the community.
Service Project Checklist
Is your FFA chapter looking to develop a service project? Follow these steps for success.
INVESTIGATE:
FIND YOUR TEAM. Who will help you serve your community?
DETERMINE THE NEED. What is one problem or challenge that faces your community? What are some possible solutions?
CHOOSE YOUR PROJECT. How will you (and your team) use your leadership skills and agricultural knowledge to make a difference?
PLAN:
SET S.M.A.R.T. GOALS. Specific, Measurable, Action Oriented, Realistic, Time-Bound
BRAINSTORM COMMUNITY PARTNERS. What resources are available to help your team with the project?
DETERMINE ACTION STEPS, MATERIALS AND CREATE A TIMELINE. Who, What, When, Where, How
OUTLINE PROJECT PLAN. Put it all together and get ready to go!
SERVE:
LET PEOPLE KNOW. Let the community know about your project.
BRAINSTORM. Brainstorm types of problems that may occur and how to address them
STAY ON TRACK. Stick to timelines and manage volunteers.
GET ACQUAINTED. Get to know those you are serving and those you are serving with.
HAVE FUN AND CAPTURE THE MOMENT. Take pictures and video to share. #LivingToServe 
EVALUATE:
REFLECT AND GATHER RESULTS. What worked? What didn't? What kind of impact did you make?
TELL YOUR STORY. Showcase your impacts through stories and pictures.
CELEBRATE AND SAY THANK YOU. Recognize your volunteers, community partners, service site and anyone else who helped.
JOIN FFA CHAPTERS ACROSS THE COUNTRY IN OUR CHALLENGE TO COMPLETE 930,000 VOLUNTEER HOURS BY THE 93RD NATIONAL FFA CONVENTION & EXPO.
#FFAChallengeAccepted
Taylor County FFA
Kentucky