Across the country, many FFA chapters celebrate national holidays such as Martin Luther King Jr. Day by giving back to their local communities, embodying one of the National FFA Organization's most important tenets: Living to Serve.
McIntosh County FFA is a perfect example of this practice and recently took on a park beautification project in its community of Darien, Ga. The chapter, comprising approximately 75 members from McIntosh County Academy and McIntosh County Middle School, set out to improve and enhance Inverness Park with the goal of completing the work by Jan. 19, 2019 – just in time for the local Dr. Martin Luther King Jr. Observance Day Parade. The chapter succeeded.
"We wanted to unveil the park improvements after the parade because it was a time when most of the members of our community would be gathered, and this is for them," says Alexis Clark, the McIntosh County FFA reporter.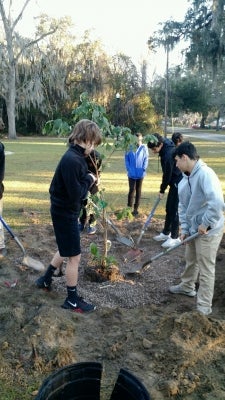 The park improvements, which included new shrubs, freshly painted benches, repaired picnic tables and an overall cleaner and more attractive appearance, were also done in honor of three community members: longtime McIntosh County educator Thelma Hunter, who was the grand marshal of this year's Dr. Martin Luther King Jr. Observance Day Parade, as well as retired McIntosh County agriculture teacher Joe Washington and former McIntosh County Commissioner Charles Jordan.
To recognize Hunter, Washington and Jordan, and their many community contributions, Inverness Park now also features a new dogwood tree that will eventually have a marker bearing each of the honorees' names.
"Giving back to our community feels so good because it has always supported our chapter, and it's rewarding to be able to show our gratitude and appreciation in this way," Clark says. "This improved park is something everyone will be able to enjoy, and that's very special to us in the McIntosh County FFA."
John Deverger, McIntosh County FFA advisor, says he's proud of his chapter for working diligently to improve the community, even in the midst of unpleasant weather conditions, and he looks forward to helping members continue giving back in the future.
"Service projects like this give young people the opportunity to build lasting relationships and see how gratifying and fulfilling hard work can be, especially when it directly benefits others," Deverger says. "Long after the work has been completed, these FFA members will still be able to reflect on the experience and carry the lessons they've learned with them, and the community will reap the benefits for years to come."
Ready to plan your own service project? Discover FFA project planning resources and get ideas for how you can make a difference.
JOIN FFA CHAPTERS ACROSS THE COUNTRY IN OUR CHALLENGE TO COMPLETE 930,000 VOLUNTEER HOURS BY THE 93RD NATIONAL FFA CONVENTION & EXPO.
#FFAChallengeAccepted
Taylor County FFA
Kentucky
Carlisle County FFA
Kentucky