The journey starts similarly for many FFA members as Greenhands in an ag classroom reciting the FFA Creed or learning about FFA history. Then, after years of development and leadership, a select few rise to become National FFA Officers. They don new blue jackets ones that no longer have their chapters named on the back, as they now represent all FFA members and set out on a year of service that includes more than 100,000 miles of travel each. They're humble leaders who want to make their marks and leave the organization even better than how they found it. The 2019-20 National FFA Officers rise to the occasion. Members of our national convention newsroom crew spent some time getting to know our new national officers. Here, they share some highlights.
Kolesen McCoy, National FFA President
FFA Chapter: Global Impact STEM Academy FFA, Ohio
College: Ohio State University
Major: Agribusiness and Applied Economics
The experience that made FFA more than just a school organization for Kolesen McCoy was attending the National FFA Convention & Expo for the first time in Louisville, Ky. There, he witnessed the organization's reach beyond his own chapter.
"It opened up my eyes," he says. "It's such a diverse group of students who share various passions, and I was thrilled to be a part of that mission of the blue jacket from all portions of our country."
During his time as a National FFA Officer, McCoy is excited to talk with students from all around the country and inspire them to pursue more through FFA. One way to do that is through mentorship, McCoy says, from friends, FFA advisors, industry professionals and other educators.
"Look to those mentors, gain insight from them and, I promise you, your journey will be heightened immensely within this organization," he says.
McCoy found his own mentorship experience through his agriculture teacher, who encouraged him to get involved in the extemporaneous speaking leadership development event (LDE), which helped McCoy develop public speaking skills he will use in his year as national FFA president.
While McCoy looks forward to interacting with FFA members while in office, don't challenge him to a dough- nut-eating contest. He'll probably win.
"I'm a huge fan of Krispy Kreme doughnuts," he says. "My record is a dozen in 81⁄2 minutes."
– By Dené Dryden
---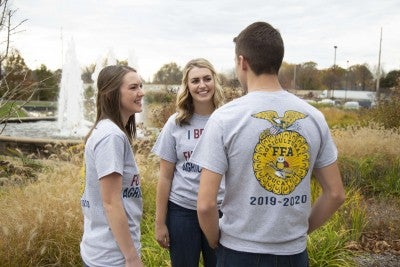 Kourtney Lehman, National FFA Secretary
FFA Chapter: Baker FFA, Oregon
College: Oregon State University
Major: Agricultural Business Management
When she wasn't spending time learning to play the accordion or helping out on the family farm in Oregon, Kourtney Lehman was spending time outside her comfort zone.
"I was terrified of Creed speaking," Lehman says. "My advisors threw me in, and that's where my passion started."
After her first experience with FFA, she went on to try every leadership de- velopment event and career development event she could – with nudges from her advisors. She attributes her success as an FFA member and National FFA Officer candidate to their dedication.
Throughout her year as national FFA secretary, Lehman is looking forward to seeing agriculture across the nation and the world. She is excited to learn from new experiences and members from various places and backgrounds, while fully realizing the importance of the National FFA Organization. During her travels and encounters, she hopes to help members realize their worth.
"I think the best advice that I could offer is to know that you are enough," Lehman says. "That's what my dad told me when I started my run for national office. He'd say, 'No matter what the out- come, you are enough for the person you are.' I would like FFA members to know that whatever CDE or LDE they go to and whatever chapter event they're at, they are enough for the person they are."
– By Macey Hurst
---
Tess Seibel, Eastern Region Vice President
FFA Chapter: Lord Botetourt FFA, Virginia
College: James Madison University
Major: Nursing
Tess Seibel is the daughter of an agriculture teacher, and she started attending the Virginia FFA state convention at 3 years old. "I joined FFA because it was a family tradition, but I stayed because of the people," she says.
She went on to serve as a state officer there, which helped prepare her for national office. "We have a lot of FFA history in Virginia, and with that comes heart," she says. "I wouldn't want to call any other state my home."
Though FFA is practically in her DNA, Seibel figured out her place in the organization through trial and error. "I remember competing in the poultry judging CDE," she says. "I figured out during my first competition that I was terrified of chickens!" However, Seibel's advice to FFA members is to try new things. "It could turn out to be a passion of yours or maybe a future career," she says.
Seibel is excited about much of her up- coming year as a National FFA Officer. Among the most exciting prospects, "I want to learn about people's stories," she says. "I am excited to be impacted by FFA members, to learn about them, to learn about their passions and to learn how I can share their stories."
– By Jessica Wesson
---
Yomar Roman, Southern Region Vice President
FFA Chapter: Padre Anibal Reyes Belen FFA, Puerto Rico
College: Universidad de Puerto Rico
Major: Animal Science
Becoming a national officer was a mere dream for Yomar Roman, who grew up on a farm in Puerto Rico. But with the help of his family and FFA chapter, and fueled by his own determination, that dream became a reality. In the process, Roman realized he was born to serve.
Roman recalls a particularly challenging and helpful conversa- tion with his grandmother during a difficult time that ultimately opened his eyes to the value of helping others. "She asked me, 'Yomar, who is your biggest en- emy?'" he says. "Then she answered for me. 'It's you.'" It was that kind of support and insight that spurred Roman along, and it has helped him see that others need to be encouraged, too.
"Every time I give a speech or spend time with others, I want them to say, 'Hey, someone believes in me and I'm not alone. There is a national officer fight- ing for me!'" he says. "My goal as a National FFA Officer isn't that members remember me; it's that they remember the mark I made."
This year, the college sophomore is looking forward to meeting members and encouraging them to pursue great- ness. He'll be cheering them on along the way.
– By William Gaspard Jr.
---
Mamie Hertel, Central Region Vice President
FFA Chapter: Moore FFA, Montana
College: Montana State University
Major: Financial Engineering
Mamie Hertel lives by a simple piece of advice her mother gave her: Whether you think you can or you think you can't, you're right.
With only 11 students in her graduating class, Hertel had small-town beginnings. Her FFA journey began like many others – with the Creed speaking leadership development event. She says the contest kick-started her passion for FFA and turned her can'ts into cans. After competing for three years, she knew she wanted to continue developing her speaking skills, so she began extemporaneous public speaking. She said it gave her the ability to interview, think on her feet and adapt to chang- ing environments – all skills she used to make it to national office.
As national FFA central region vice president, Hertel looks forward to many things, particularly meeting members.
"My life motto is that there's more to it all, and I'm excited to share that with members and tell them that there is more to their lives," Hertel says. "There's more to this blue jacket that they haven't found yet, and there's more to every- thing that they do."
She plans to maximize her coming days in FFA, and she encourages mem- bers to do the same.
"My advice to all members would be to make the most of this next year," she says. "Realize that you can seek out opportunities and you can seek out moments, and I hope every member knows that."
– By Macey Hurst
---
Lyle Logemann, Western Region Vice President
FFA Chapter: Elida FFA, New Mexico
College: Eastern New Mexico University
Major: Agri