The ease of cultivating pomegranates led the Moapa Valley FFA Chapter in Overton, Nev., to plant a small – but growing – orchard. Take a closer look around the facility.
Welcome to the Farm
A sign marks the entrance to the Moapa Valley High School farm where members of the FFA chapter tend crops and livestock. The 40-acre farm includes a demonstration garden planted with drought-tolerant crops; an FFA Living to Serve Environmental Grant helped fund the garden. One of the highlights of the farm is a 1.5-acre pomegranate orchard. The Nevada climate is perfect for cultivating the exotic fruits.
---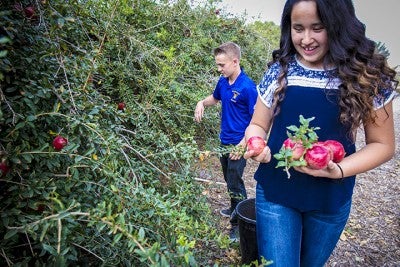 Fall Harvest
Freshmen Elayna Sosa and Fox Soderquist are among the students in the agricultural education program who help pick the ripe fruits in November. With the exception of a few fruits clinging to high branches, the bushes are low growing, allowing students easy access for harvesting. In addition to a small pomegranate orchard on campus, the FFA chapter leases land from the University of Nevada Cooperative Extension that includes several pomegranate bushes.
---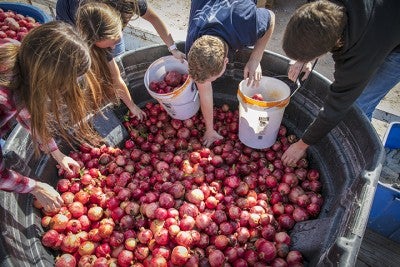 Sort for Sale
The pomegranates that are too small or bruised to sell as fresh fruit are turned into juice. Members of the Moapa Valley FFA chapter gather the less-desirable fruits, which are washed and run through a juicer, to produce an estimated 30 gallons of pomegranate juice every year. Agricultural education instructor and FFA advisor Denise O'Toole says the juice is the most popular product during the annual Pomegranate Art and Craft Festival.
---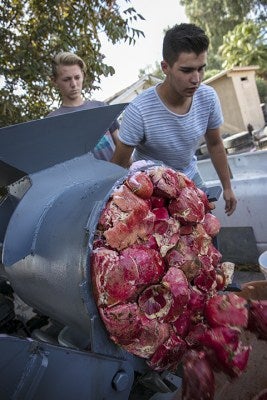 Pressing Pomegranates
Logan O'Toole, the Moapa Valley FFA chapter treasurer (and son of agricultural education instructor and FFA advisor Denise O'Toole) and FFA member Isaac Bradshaw unload pomegranate hulls from the juicer after all of the juice is removed. Logan, who likes to pour pomegranate juice over Sprite, says, "We are lucky to have the climate to grow and eat all the pomegranates we want each fall."
---
Fan Favorites
At the annual Pomegranate Art and Craft Festival, held in Overton, Nev., each November, Denise O'Toole helps an adorable customer (wearing a pomegranate print dress) purchase fresh fruit. Members (left to right) Makae Pulsipher, chapter co-vice president, Emily Leigh and Shyanne Matheson, chapter co-vice president, sell pomegranates and talk to customers about the fruit, the farm at Moapa Valley High School and FFA.
---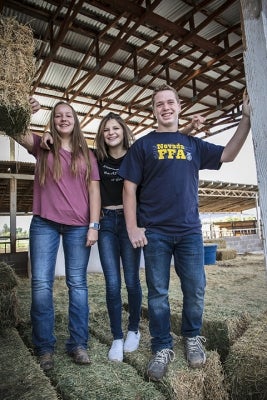 Far More Than Fruit
The Moapa Valley High School Laboratory Farm is spread across 40 acres. Members, including (left to right) Makae Pulsipher, chapter vice president, Elizabeth Williams and Ryan McMurray, chapter reporter, work with 20 mother cows and their calves, chickens, alfalfa hay, gardens, a hydroponic greenhouse and, of course, pomegranates.
---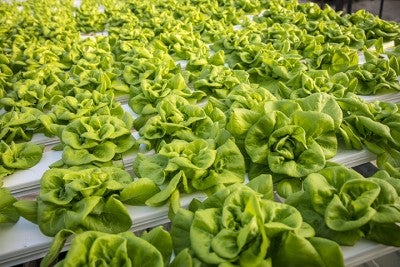 Hydroponic Produce
Buttercrunch lettuce is one of the crops produced in the hydroponic greenhouse. Between August and May, students harvest 200 heads of lettuce per week! Tomatoes and cucumbers are also grown in the greenhouse. All of the hydroponically grown produce is sold through the onsite farmers market, a local community supported agriculture (CSA) program and to local restaurants.
---