The ease of cultivating pomegranates led the Moapa Valley FFA Chapter in Overton, Nev., to plant a small – but growing – orchard. Take a closer look around the facility.
Welcome to the Farm
A sign marks the entrance to the Moapa Valley High School farm where members of the FFA chapter tend crops and livestock. The 40-acre farm includes a demonstration garden planted with drought-tolerant crops; an FFA Living to Serve Environmental Grant helped fund the garden. One of the highlights of the farm is a 1.5-acre pomegranate orchard. The Nevada climate is perfect for cultivating the exotic fruits.
---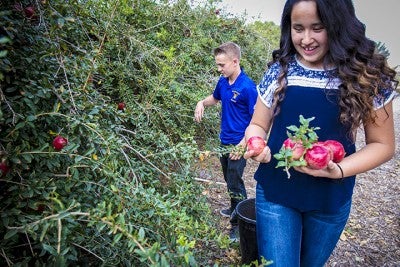 Fall Harvest
Freshmen Elayna Sosa and Fox Soderquist are among the students in the agricultural education program who help pick the ripe fruits in November. With the exception of a few fruits clinging to high branches, the bushes are low growing, allowing students easy access for harvesting. In addition to a small pomegranate orchard on campus, the FFA chapter leases land from the University of Nevada Cooperative Extension that includes several pomegranate bushes.
---