It's common knowledge that farming is hard work, but have you ever imagined what life is like for farmers with disabilities or long-term injuries?
Members of Tyrone FFA in Pennsylvania wondered the same after a simple conversation two of them had while working at a food booth at Ag Progress Days, the state's largest outdoor agricultural expo.
"Our members were talking to a vendor who ran a hunting preserve for veterans, and he told them how they needed trails cleared so veterans could get out in their wheelchairs," said Tiffany Hoy, agriculture teacher and FFA advisor at Tyrone Area High School. "The students began discussing what it's like to farm with a disability, and they wanted to create a hands-on project for our members. It snowballed from there."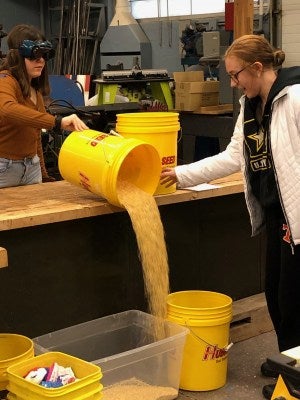 Tyrone FFA committee members talked with representatives from AgrAbility PA, a nonprofit that assists farmers and agricultural workers with disabilities, about ideas for a chapter project that would raise awareness of farming with a disability. Hoy's son, Garin, a 17-year-old senior FFA member and chapter vice president, was one of the organizers.
"It was amazing to hear from the Tyrone students – young people in agriculture interested in knowing more about the farming population AgrAbility serves. What a win-win," said Abbie Spackman, project assistant for AgrAbility PA.
AgrAbility PA connected Tyrone FFA officers with a local farmer who operates a goat and sheep farm and has limited mobility and dexterity due to multiple sclerosis. In December 2019, the FFA officers spent a day on his farm observing how chores are completed by a farmer with functional limitations. The experience inspired them to create an obstacle challenge course for the rest of their chapter to complete while immobilizing different parts of their bodies to simulate what it's like to farm with a disability.
In January 2020, 76 Tyrone FFA members (along with eight additional eighth graders who were taking an Ag Career Course) went through the AgrAbility Challenge Course. Each student was assigned a disability commonly found in agricultural operations, such as low vision, hearing loss and mobility limitations.
"Students simulated different disabilities by immobilizing one leg using a splint or wearing old, colored lab glasses that made it difficult for them to see," Hoy said.
Then they had to complete challenges such as tying their shoes, opening large feed bags, feeding goats and sheep, herding "Bertha" (a pretend cow) around some posts, and carrying buckets of water from one location to another – then dumping the water into a specific area.
The AgrAbility course raised awareness among participants, according to Garin. "They had no idea what a farmer does on