In 2018, during her senior year at St. Marys Memorial High School in Ohio, Laura Wilker came up with the idea to ship five-gallon plastic buckets filled with food and toiletries to active duty military. It was part of an FFA project called Operation Pail Mail, and it sent buckets to soldiers stationed at bases in Afghanistan, Iraq and other far-flung destinations.
"Going into it, I wasn't even sure that the buckets would even reach their destination," Wilker recalls. "It's been pretty awesome to get so much great feedback from the soldiers and see how the project has grown."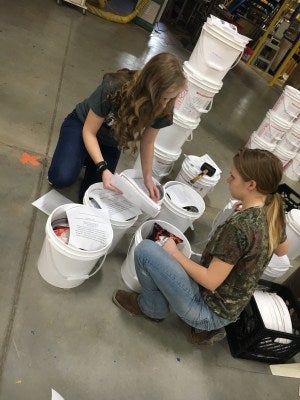 Wilker is now a sophomore at the University of Dayton, but FFA members at her high school have continued Operation Pail Mail.
Agriculture teacher and FFA advisor Lucy Bambauer requires all of her FFA officers to launch passion projects. The ones perceived as the most fun and impactful, like Operation Pail Mail, tend to endure.
The students raise $2,500 per year through sponsorships and donations to cover the cost of chips, pretzels, candies, wet wipes, Chapstick and other small items; a local bakery donates the buckets. To keep shipping costs in check, the chapter focuses on lightweight, nonperishable items that will not melt in the heat, explains sophomore Mackenzie Ott. The buckets are an important part of the package: Soldiers use them for storage because the airtight lids help keep sand and water out of their possessions.
In February 2019, the chapter shipped 82 buckets. Most of the care packages were sent to military members with connections to the St. Marys, Ohio, community.
Although it takes a significant amount of effort to raise funds, purchase items, pack buckets and fill out the appropriate forms for the post office to ship them overseas, sophomore Parker Miley appreciates the impact the gesture has on the soldiers who receive the care packages. "It makes me feel good that we found a way to give back to active duty service members," he says.
One solider, a former FFA member from Indiana, received a package from Operation Pail Mail at his base in Afghanistan and wrote a letter to St. Marys FFA members. He was so impressed with the gesture that he asked if he could visit the students during his upcoming leave.
"The experience taught me how much of an impact one passion project can have," Wilker says.
JOIN FFA CHAPTERS ACROSS THE COUNTRY IN OUR CHALLENGE TO COMPLETE 930,000 VOLUNTEER HOURS BY THE 93RD NATIONAL FFA CONVENTION & EXPO.
#FFAChallengeAccepted
Taylor County FFA
Kentucky