Beekeeping was not part of the agriculture science curriculum at Hawkins High School – not until a single phone call led students in an unexpected direction.
In February 2019, agriculture science teacher and FFA advisor Matt Byrd received a call from a contact at the Nestle Waters North America plant asking if students could help relocate bees that had taken up residence in their Hawkins, Texas, bottled water facility.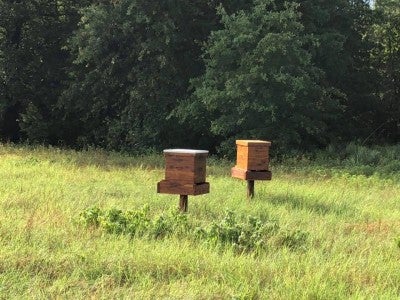 Byrd sought out advice from a local beekeeper and agreed to build hives and install swarm catchers on-site. Nestle provided $5,000 to purchase a table saw, planer, joiner and other woodworking tools to ensure that students had the right equipment to construct the hives in their agriculture mechanics classes.
Once the hives were built, a team of four members from the Hawkins FFA Chapter – Jessica Henneous, Mackenzie Rutherford, Rachel Parish and Brooke Goddard – established an apiary on the 2,700-acre grounds at Nestle, hoping that the setup would encourage bees to vacate the plant and move into their new, more suitable homes. The plan worked.
The novice beekeepers accepted the ongoing responsibilities of caring for the colonies, including regular hive inspections and honey extractions. A local beekeeper taught students the basics of honeybee anatomy, pollination, colony behavior and honey production. Byrd had