At Box Elder High School (BEHS) in Brigham City, Utah, Box Elder FFA members have the unique opportunity to take aviation classes and learn about the many ways aviation technology applies to the industry of agriculture. As a result, several students are realizing a newfound passion for aviation while becoming more acquainted with the latest and greatest in ag technology.
It's a cool combination that's sure to help them soar in the future.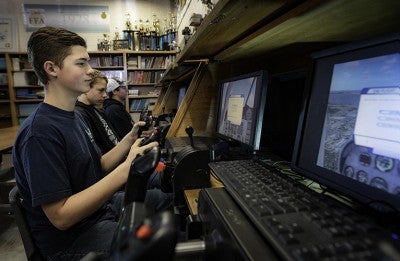 "The world of technology and its place in agriculture is only getting bigger, and aviation is certainly a critical part of that," says Jason Bingham, BEHS agriculture instructor, Box Elder FFA co-advisor and a licensed pilot. "Offered in concurrent enrollment with the Utah State University (USU) College of Agriculture and Applied Sciences, and serving as introductory classes for the USU aviation technology program, our aviation courses at BEHS are helping open students' eyes to the possibilities that stand before them, including several careers they often didn't even know existed. They get hands-on experience with drones, flight simulators and other high-tech equipment, and many are flying airplanes under supervision and accumulating flight hours. Plus, they are earning college credit at very little expense and are learning skills that can help them acquire a private pilot license. This is an excellent opportunity for our students, and we're proud to offer these courses."
Students Fly High
Available to juniors and seniors since the 2016-17 academic year, BEHS has two aviation courses: The Aviation Profession and Private Pilot Ground School. Both courses last one trimester. To enroll, students must have a grade point average of at least 3.0, and students are required to complete The Aviation Profession before beginning Private Pilot Ground School.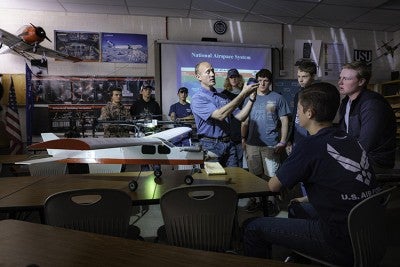 The Aviation Profession, described by Bingham as an "exploratory course," covers a wide variety of topics such as career planning and certification processes. It essentially serves as an introduction to the aviation industry. After completing the course, students earn one USU credit and half a BEHS career and technical education (CTE) credit.
"The Aviation Profession is designed to expose students to as many careers in aviation as possible," Bingham says. "We usually bring in 15 to 20 guest speakers who talk to the students about their careers in the field – everyone from Air Force and commercial pilots to mechanics, air traffic controllers and crop dusters. There are hundreds of careers in aviation, so we're really just scratching the surface."
Private Pilot Ground School, on the other hand, is more intense, according to Bingham. The course helps prepare students for flight training, focusing on principles of flight, and aircraft and engine operation. Students learn about topics such as aerodynamics, airport systems, air traffic control procedures, air navigation and flight physiology – basically everything they might need to know to pass the Federal Aviation Administration (FAA) Private Pilot-Airplane test.
When students complete the course, they walk away with five USU credits and one BEHS CTE credit.
"Private Pilot Ground School is specifically for students who are interested in becoming pilots, and they receive some simulated flight instruction," Bingham says. In this class, they also get to fly the school's unmanned aerial vehicles – six small drones and four large drones, some of which are used for crop surveying and imagery. "Students have opportunities to fly over our school's orchard and alfalfa field and use the sprayer drone [Agras MG-1S] on our athletic fields and some local farms. Many farmers use drones to apply things like pesticides, herbicides and liquid fertilizers. There's no denying  that drones are becoming an increasingly important part of agriculture and farming, so any student interested in working in the ag industry can benefit greatly from taking this course."
Another perk: During the summertime, BEHS aviation students and those in the school's summer agricultural program use drones to practice aerial mapping on nearby farms.
"We're hoping to share the images and plant health data we glean with the farmers who have been gracious enough to allow us to use their farms," Bingham says. "What we find might shed some light on any issues they're having with their crops, and it's an excellent way for students to get real-world experience."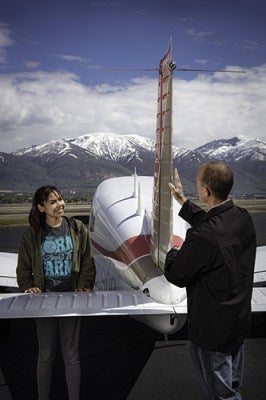 Careers in Aviation
After enrolling in both The Aviation Profession and Private Pilot Ground School during his junior year, Alec Hendricks, now a former Box Elder FFA member who graduated in May, plans to earn his commercial pilot license and pursue a bachelor's degree in aviation technology at USU.
During his time at BEHS, Hendricks completed an internship with a crop duster at Brigham City Municipal Airport, which also served as his supervised agricultural experience (SAE). In the future, he is interested in putting his aviation skills to work in a career in resource and wildlife management – a profession that entails spraying invasive species, removing exotic plants, surveying animals and more, the majority of which is done using an airplane.
"I learned so much in my aviation classes, particularly Private Pilot Ground School," says Hendricks, who also credits the BEHS aviation courses with introducing him to FFA. "It was a rigorous course that required a lot of hard work and study time, but now I can say that I have a strong understandi