As an agricultural communicator, business owner, mother, Missouri farmer and former FFA member and advisor, Jamie Johansen knows the importance of advocating for rural America.
"I'm a storyteller," she says. "Sometimes that's in print or behind the screen through social media or on camera, and it's given me that confidence and knowledge to empower the idea that everybody does have a story."
Johansen is the owner of Honey Creek Media, an agricultural communications firm offering work on publications, contract communications and the television show "From the Tailgate," which she produces and hosts. She also serves as the 2019 Missouri Farm Bureau Young Farmers and Ranchers Chairperson.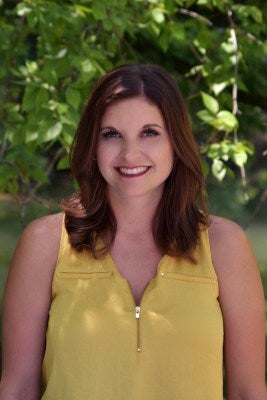 "I attribute everything I do in my career now to FFA giving me that confidence to actually do it," she says. "There was just something about zipping up that corduroy jacket that allowed you to hold your shoulders back, be proud and know that you were all here for the same thing – that commonality of rural America and agriculture."
At the 92nd National FFA Convention & Expo, Johansen is collecting 52 different stories from chapters across the country. Each week, a different chapter will be spotlighted on "This Week in Agribusiness," the RFD-TV agricultural news show she reports for.
As a former FFA member, Johansen revels the experience.
"Coming back to national convention every year is the highlight. It's my favorite event each year, because even though I don't get to zip up the corduroy jacket, the experiences it gave me still empower me," she says.
As a member, Johansen competed in floriculture, forestry and prepared public speaking. At the national level, she competed in the Creed Speaking leadership development event and represented Missouri as the beef production placement proficiency winner, through which she was awarded a trip to Costa Rica. She also spent some time as an FFA advisor for the McDonald County FFA Chapter in Missouri.
"I was pretty shy and lacked a lot of confidence when I was younger, but I am where I am today because I took those opportunities and there was someone pushing me to take that next step," she says. "Don't be a wallflower," she advises. "Don't say no because you don't know how. Don't say no because you're scared or you're afraid. Whether they're here at national FFA convention or they're at their home chapter, get involved. Live in a world of saying 'yes.'"
Photography courtesy Jamie Johansen