The Model of Excellence program recognizes FFA chapters that strive to uphold the mission of the organization at the very highest degree. The Ponchatoula FFA Chapter in La. was named a finalist for the award ahead of the 2019 National FFA Convention & Expo for their efforts to include and improve their community.
First, the chapter saw a need for diversity and inclusion at school, so they implemented Corduroy Mentors. In this program, senior FFA members help special needs students earn their Greenhand FFA Degree. Ponchatoula FFA Treasurer Maison Rock says the program is unique and the first of its kind.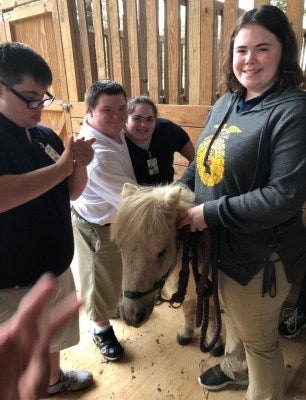 "It's a revolutionary program," Rock says. "We decided to do it because we have a large number of students with special needs, and we felt a need to get them out of their classrooms to give them the opportunity to do something besides their day-to-day things."
The chapter also hosts a mini farm to educate the public about livestock production. Chapter President Jake Sasser says the program has a great impact on the Ponchatoula community. 
"We borrow animals from some of our students and take them to festivals and other events," Sasser says. "Not many kids get to experience agriculture in their daily life, so being able to see the other side of that picture is just amazing to them."
A third project, More Trees Please, is the chapter's response to erosion problems on Louisiana coastlines. "We partner with LSU and their Coastal Roots program to plant trees in a local wetland site," Rock says. "[We also work with] Lake Pontchartrain Basin Foundation to plant trees in the marshes of the lakes. For us to be able to impact Louisiana's ecosystem is really major."
Ponchatoula FFA Secretary Haley Faciane says the projects can have a ripple effect. "It's a huge opportunity for us to become true advocates for agriculture within the community," she says. "It's our job to show them how we can impact them and how they can end up impacting others."
"We hope to inspire others to create a place for everyone because that's what the FFA stands on," says Maggie Klein, Ponchatoula FFA advisor.
The chapter was recognized onstage at the national convention on Friday. Though they did not win, Faciane says, "We represented Louisiana and we're so proud to be able to do that."