Sometimes, FFA members can spend so much time with their FFA advisors that they become a secondary mom or dad. In the case of Glenda Sours and Kandy Hutchins, teaching agriculture became a family affair in 1998 when they became the first mother/daughter teaching duo in the National FFA Organization.
Glenda Sours grew up sneaking into the agricultural mechanics shop and being chased off because, at the time, women were not allowed to participate in FFA. Having previous experience working on windmills, welding and riding horses, she knew agriculture would be a significant part of her future. After spending a few years managing ranches, Sours returned to school and earned her teaching certificate. Decades later, she still maintains her passion for agriculture and FFA.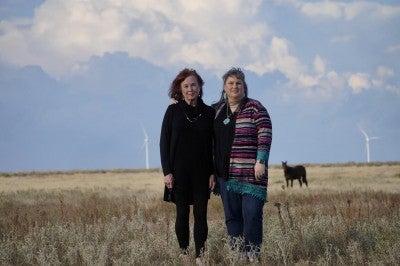 "I have been teaching for decades, and I've already retired once," Sours says. "I missed the classroom and the kids so much, I had to come back. Today, I teach wherever the state of New Mexico needs me in order to prevent programs from shutting down."
Despite a long and varied career – spanning stints on an Indian reservation and a school with 41 pre-K through 12 students – Sours' favorite memories include teaching with her daughter, Kandy Hutchins, at the Tucumcari FFA Chapter.
Having grown up in the FFA world, spending her formative years in the tabulation room at state FFA convention, and attending more teaching conferences than she can count, becoming an agriculture teacher was a natural career path for Hutchins.
"FFA has such a strong environment of tradition and high expectations to succeed," Hutchins says. "While entering the same career path as your parents has its benefits, it is important to remember to develop a strong professional network outside of the people you naturally gravitate toward – including family."
Sours and Hutchins have found a way to maintain this family dynamic for more than two decades, and they have worked with hundreds of students during this time. While Sours may someday enjoy her second retirement, she keeps one thing in mind.
"This is my passion and it is my soul," Sours says. "When my family retires, they look forward to golfing and traveling. I still get to travel and golf, just in different ways than most retirees. In fact, I'll take my current chapter – with nine students enrolled in the program – to Indianapolis and continue to develop passion for premier leadership, personal development and career success."
Photography: Courtesy Kazne Garrett