Members from The Center FFA chapter in North Dakota placed a service dog with decorated veteran Sergio Cuevas (pictured above, bottom right.)
Through the Patriotic Puppy Project, the Center FFA Chapter came together and rallied its small North Dakota community to help change a veteran's life.
The project began when Nikki Fideldy-Doll, the Center FFA Chapter advisor and agriculture teacher at Center-Stanton Public School in Center, N.D., saw a Facebook post from Mindy Weist, who owns Distinguished Danes – a Great Dane breeding operation – with her husband. In the post, Weist indicated she would like to donate one of her Great Dane puppies to a veteran in need. Fideldy-Doll immediately thought of her FFA chapter and how the members could get involved.
"Mindy had visited my animal science class in the past, so we already had a relationship," Fideldy-Doll says. "I reached out and asked if we could help her once she found a veteran, and she was happy to have us on board. At the time, we had no idea how successful and impactful this project would be."
A Perfect Fit
In early 2018, Weist found a veteran, Sergio Cuevas, a New Mexico resident and Purple Heart recipient who served in the U.S. Army for nine years before being medically discharged due to a multiple sclerosis diagnosis.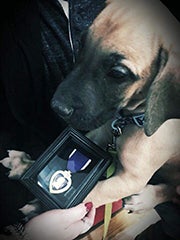 "Great Danes are wonderful service dogs due to their large size and temperament, and I knew Sergio would be a great owner," Weist says. "He was a perfect fit for this project."
Weist connected Fideldy-Doll and Cuevas, and the Center FFA quickly got to work raising funds to create a puppy care package for Cuevas. Over the course of two months, FFA members raised $180 in cash donations and received a variety of supplies from classmates, teachers and the community – dog treats, food and toys, for example – which was far more than they were expecting.
"We live in a very small town, and our school only has about 100 students," Fideldy-Doll says. "But our FFA members worked hard, and I think the Patriotic Puppy Project showed them that a small group of people in a little town can actually make a huge impact on someone else's life."
When Cuevas came to North Dakota to pick up his puppy, he also visited Center-Stanton Public School and met the Center FFA members, who Fideldy-Doll says were excited to give him their care package in person. He was excited to meet them, too, and continues to be humbled by their generosity.