Get to know the new team of passionate agriculturists ready to serve FFA — and you! Judging by their pasts, they have every intention of encouraging all FFA members to get out of their comfort zones.
They are six individuals, all from different parts of the country and from different backgrounds. One loves to raise dairy goats. Two overcame shyness to compete in an FFA Creed speaking leadership development event. Another sang in the national chorus. Two others joined FFA after being encouraged by a friend and a crush. They are six individuals with different likes and dislikes, unique career paths and goals, but all are connected by one mission: premier leadership, personal growth and career success.
Members of our national convention newsroom crew spent some time getting to know our new national FFA officers. Through it all, an interesting thread rang through: Don't get too comfortable.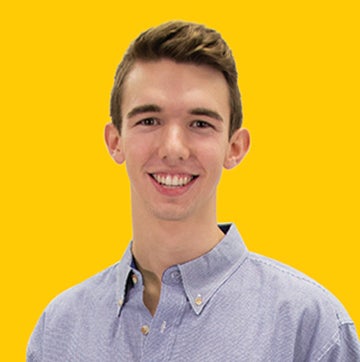 Luke O'Leary
National FFA President
FFA Chapter: San Luis Obispo FFA, Calif.
College: Texas A&M University
Major: Agricultural leadership and development
Ironically, losing was a key ingredient in Luke O'Leary's success.
Running for FFA office in his home state of California his senior year of high school was a defining moment, but it was losing the election that taught him a valuable lesson: Learn from your experiences, no matter the outcome. The next year, O'Leary ran for office again and was elected president, but he says, "It was that first year I ran that really taught me the most about what I want to pursue and who I am, win or lose."
O'Leary decided to pursue national office because he wants to give back to agriculture, inspire others to be leaders and have a positive impact on people. "I believe my purpose is to develop deep relationships and to bring a light to the lives of those around me," he says.
He wants FFA members to look at every new opportunity with courage, no matter their age. "It's incredibly important to realize that we learn from every step we take outside of our normal comfort zones," he says. "That's not a place to step into and then jump right back out of to get back to the comfortable space that we love. We step into that place to learn from it and to grow our comfort zone and, in turn, to really grow our sphere of influence."
– By Martha Hoffman
---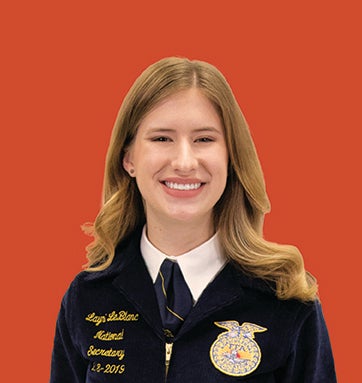 Layni LeBlanc
National FFA Secretary
FFA Chapter: Walker FFA, La.
College: Louisiana State University
Major: Animal science – science and technology
For Layni LeBlanc, participating in FFA wasn't a given. The Louisiana native is not from an agricultural background but decided to join the organization because of her agriculture teacher.
"My advisor encouraged me to participate in Creed speaking in the ninth grade," LeBlanc says. "At the time, I was crazy-shy and just sat at my desk and didn't venture out. But by participating in that event, I figured out that I was capable of public speaking and being a leader."
LeBlanc credits FFA and her advisors with helping her come out of her shell and finding her sweet spot in the organization — veterinary science.
"The realization that this organization had poured so much into me over the years led me to want to serve FFA on the national level," LeBlanc says. "As a national officer, I want to give back to students who are just like I was, waiting for someone to tell them they are capable."
As she prepares for her year of service, the college freshman is looking forward to meeting students and advisors from across the country and building relationships with them.
– By Cheyenne Dunn
---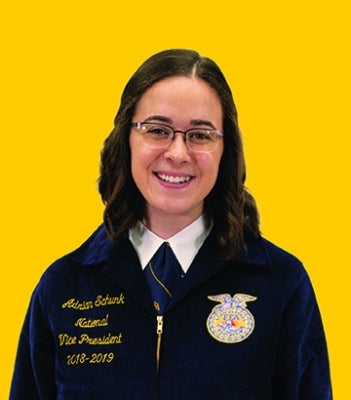 Adrian Schunk
Eastern Region Vice President
FFA Chapter: Mason FFA, Mich.
College: Michigan State University
Major: Communications
For Adrian Schunk, one sentence made all the difference. When she was a high school freshman, her FFA advisor encouraged, "Adrian, you should do Creed speaking," even though Schunk had never spoken in front of a group of people. The experience "truly changed my life and changed the trajectory of my life and my passions," she says. "Now I love connecting with people through public speaking, even though it wasn't an easy thing to do at the beginning."
The youngest of four siblings (three of them adopted from Russia), Schunk's time in FFA has helped her grow but has also opened her eyes to how she can help others.
As a Michigan state officer, she encouraged FFA members to do the unimaginable, which helped her decide to pursue national office. "I couldn't pass up the opportunity to keep encouraging other members. If there's something that scares you or intimidates you, I think that's the first thing you should try, because that's when you step out of your comfort zone and that's when you grow."
– By Martha Hoffman
---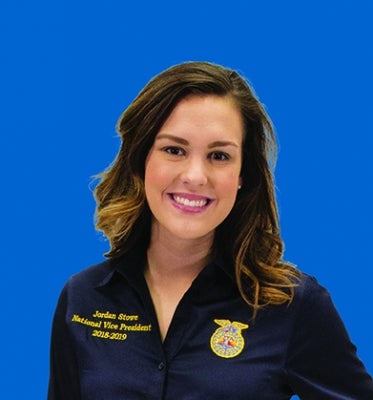 Jordan Stowe
Southern Region Vice President
FFA Chapter: Enterprise FFA, Ala.
College: Auburn University
Major: Agriscience education
Jordan Stowe took her first agricultural class when her best friend encouraged her to sign up. She first thought FFA wasn't for her but then signed up for a Career Development Event (CDE) because her friend was doing it. "When I went to my first CDE, which was an extemporaneous speaking contest, I remember coming out of that contest room and thinking maybe I wouldn't be the top score that day, but I had done something to get out of my comfort zone