While she was driving to work from her home in Chico, Calif., on Nov. 8, Jennifer Kaslin, an agriculture teacher and FFA advisor at Gridley High School, didn't realize she was heading into some major drama.
"I could see the column of smoke, but I just assumed it was another fire somewhere that they would get a handle on fairly quickly," she said.
Instead, that smoke was produced by fast-moving flames that would become the deadly Camp Fire, the worst wildfire in state history. The fire torched more than 153,000 acres, killed 85 people and destroyed nearly 19,000 structures in several Northern California communities.
Later in the day, after getting word of the fire's intensity, Kaslin left the school and wove her way home on back roads, avoiding closed main highways. As the winds that day shifted, the fire began to threaten the area of town where she lived.
"The firefighters worked endlessly to keep the fire from reaching the Chico city limits," Kaslin said. "I knew how extremely blessed I was as I watched the fire destroy so many of my friends' homes."
Though she would have to evacuate her home later that day, Kaslin and her FFA advisor colleagues Matt Reed and Nick Dreesmann hatched a plan to help with the Camp Fire relief effort. Initially, they focused on rescuing and sheltering livestock and other displaced animals in the region.
"I think the experience of going up the mountain to evacuate animals was something I will never forget – seeing these animals scared and out of place," Reed said.
Kaslin, who manages Gridley FFA's social media, began using the outlets to help mobilize members.
Nov. 9, on Facebook:
Gridley FFA-all schools will be canceled next week. Please look for remind updates from Ag Teachers as we assist with fire victims and livestock ❤️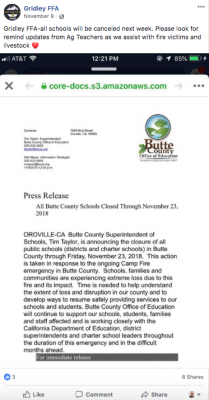 Nov. 10:
Gridley FFA Students: Need volunteers to help sort clothing in Gridley! Need helpers with Mr. Reed to set up pens at the arena!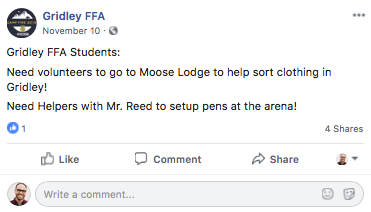 Later that day:
Let's not slow down. We have a lot of work ahead. Those who are available to help feed livestock in the morning would be appreciated. Get some rest when you can.
Nov. 11: 
Attention! Need STRONG people at 2:00 p.m. near rodeo arena to set up more panels! These are heavier panels than we have used before, so be sure to bring a buddy and your muscles!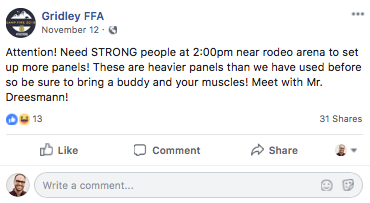 The effort continued through the month and well into December, with FFA members caring for an estimated 900-plus animals.
"Our community was flooded with volunteers, donations and assistance within a matter of days," Kaslin said. "Social media kept this effort alive throughout the weeks we took care of both animals and people at our fairgrounds."
As the fire fighting continued up the road, Gridley FFA members helped out in a variety of ways.
"We had students not only working with livestock but also manning gates, sorting clothes and goods, assisting on phone lines, and contacting families," said Reed. "I would say at the height of it all, we had probably 100 people working in different areas around the fairgrounds and high school campus."
The Gridley FFA advisors credit the whole school and community, as well as nearby FFA chapters and those from around the state, for the successes.
"It makes me proud to know that these students have proven that they understand the importance of giving back," Reed said.
Seti Long, a reporter who covered the Camp Fire for the Gridley Herald newspaper, praised the local FFA involvement. "That FFA group truly has been boots on the ground. They are an amazing bunch of kids."
A focused fundraising effort is underway to support the teachers and their families impacted by the Camp Fire. Learn more and read about all FFA crisis relief efforts. 
JOIN FFA CHAPTERS ACROSS THE COUNTRY IN OUR CHALLENGE TO COMPLETE 930,000 VOLUNTEER HOURS BY THE 93RD NATIONAL FFA CONVENTION & EXPO.
#FFAChallengeAccepted