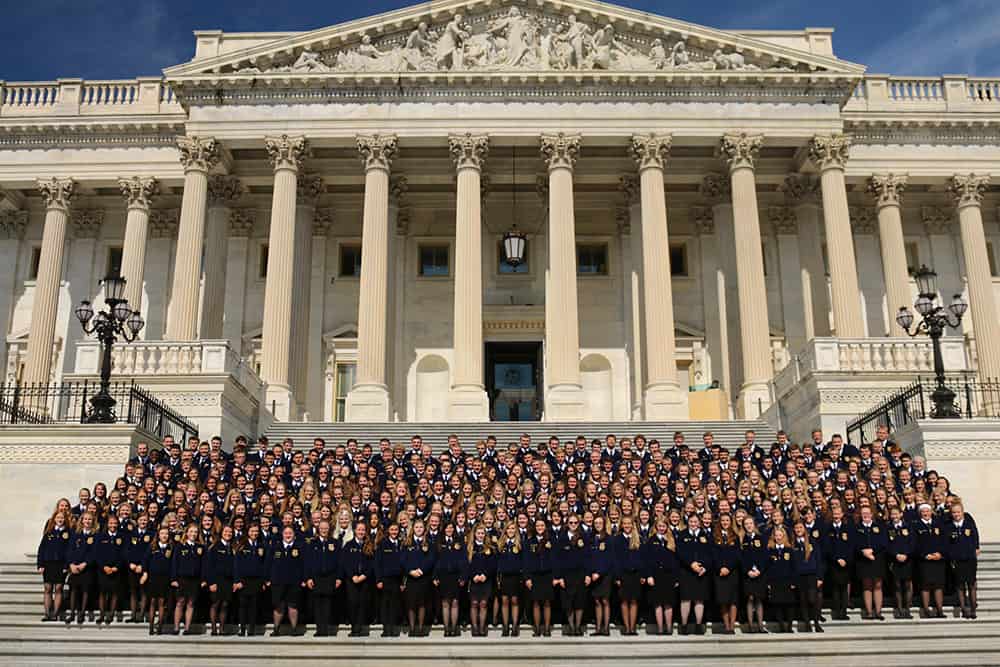 Event Update: April 8, 2020
All scheduled sessions of the 2020 Washington Leadership Conference have been cancelled due to the COVID-19 pandemic.
All registered WLC participants will receive a full refund of their registration fee and deposit. This policy applies to those who registered through large group coordinators as well. Any participant who has already canceled because of COVID-19 will also be refunded their registration deposits. We ask for your patience as we work through this refund process.
Our top concern in making this decision is our obligation to protect the safety and health of FFA members and participants at our events. Numerous logistical issues such as extended stay-at-home orders, large group restrictions, business travel restrictions and venue closures were factors as well. We also recognize that school closures across the country have hampered abilities to plan and approve student travel this summer.
We look forward to WLC returning in the summer of 2021.
FFA provides exceptional leadership training to students of all experience levels through utilization of a three-part, cohesive conference series called the Chapter Leadership Continuum. The final conference in this series is the Washington Leadership Conference (WLC).
The WLC curriculum is based on four tenets: ME, WE, DO and SERVE. Building upon each of these four tenets gets students to the overall objective of the conference which is becoming an engaged citizen who can make a measurable positive difference in their community.
Each of these tenets are taught during a full dedicated day of the conference and through the context of our nation's capital, Washington D.C. WLC provides FFA members with a premier leadership experience while exposing them to the rich history that DC has to offer.
ME – To start the continuum in becoming an engaged citizen we must first start with ourselves. Day one of WLC pushes students to look inward at the unique offerings they bring to the table. Students identify what their top six strengths are (Things we are great at) along with their top six passions (Things we love to do.) Students are then gently introduced to what needs of the world are. Students then combine their strengths and passions, and start to think about what it would look like if we combined our strengths and passions to meet a need. For example; a student may identify "organization" as a strength, and "basketball" as a passion. They may then be made aware of the need of increased funding for cancer research. That student could then organize a basketball camp to support cancer research. Students are also walked through developing a purpose statement.
On this first day students travel to Arlington National Cemetery where thousands of military service members are laid to rest. Those interred at Arlington knew their strengths, had a strong passion, and ultimately gave their lives in service of our country. Arlington Nationa