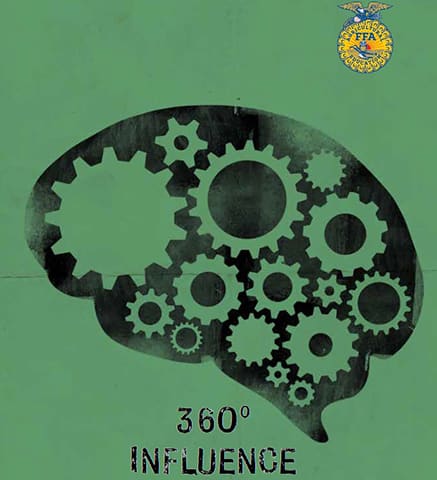 Because of COVID-19 and to meet the needs of states, we are excited to offer National FFA-endorsed leadership curriculum to your students. States and chapters can register for these experiences starting Jan. 4, 2021, through Aug. 31, 2021. National FFA will provide registered conference hosts with the curriculum and a training video to help hosts deliver the experience. The cost for these conferences is $10 per participant (this cost covers the supplies to be shipped for each participant). National FFA will not offer options that provide facilitators per our current travel policies. Registration goes live on Jan. 4, 2021. Click here to register for a 360° conference.
360° takes students full circle in chapter leadership development. The conference covers every angle on developing action plans for their chapters and communities. Themes for this conference include Vision and Influence, allowing students to attend in two consecutive years without seeing the same curriculum. This conference is designed for 11th- and 12th-grade students.
The theme for 2019-20 is Influence. The objectives of this conference are:
Defining influence and identifying the influence process
Recognizing positive characteristics in relationships
Identifying methods to determine if someone is trustworthy and exploring methods for building others' trust in us
Recognizing the benefits of maintaining a positive image
Reviewing qualities of collaboration and demonstrate collaboration skills
Inspecting everyday influence
The 212° and 360° conferences are designed to provide flexibility in the delivery of these conferences. Flexibility is offered through curriculum purchasing options, delivery methods and the length of the conference. More information can be found in the Conference Planning Guide in the Event Resources folder.