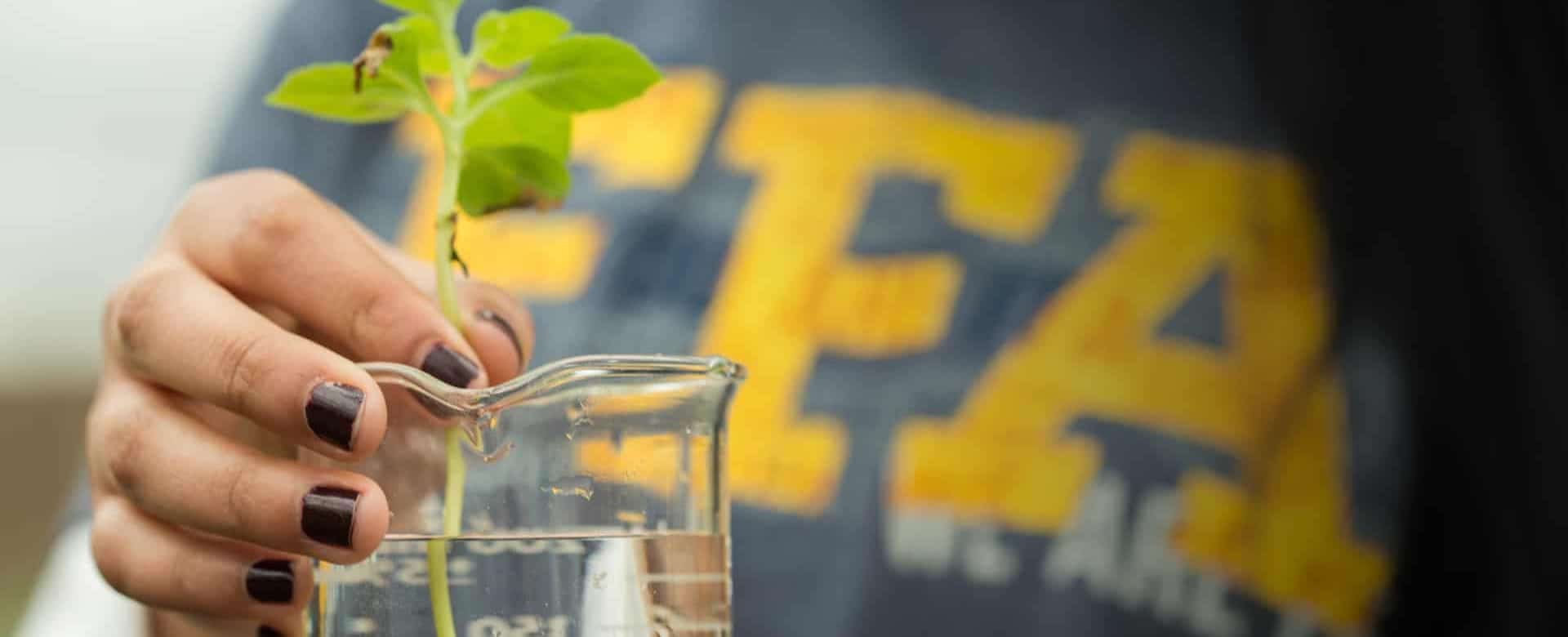 When someone asks you to name a brand, you might come up with Nike® or McDonald's® or Target®. But you might just as easily say the Nike swoosh, the Golden Arches, or that familiar red bullseye.
After all, a brand is more than just a company name or a logo. It's everything. It's a promise. A promise that you get the same experience—whether it's the color of the logo or how the product performs—no matter how you're experiencing the brand. At least that's the way it should work.
By the same measure, how you use the FFA emblem is important to protecting the integrity of the overall brand. So whether the FFA emblem is stitched on a jacket or projected on a screen in front of thousands of people, it needs to be treated in a similar, consistent manner.
The guidance offered on this page is created for FFA members, local chapters, state associations, and all other parties with approved and acceptable uses of FFA trademarks. All use of the FFA trademarks is governed by the Official Board Policy on FFA Trademarks.
Using the FFA Emblem
Protect our collective source of pride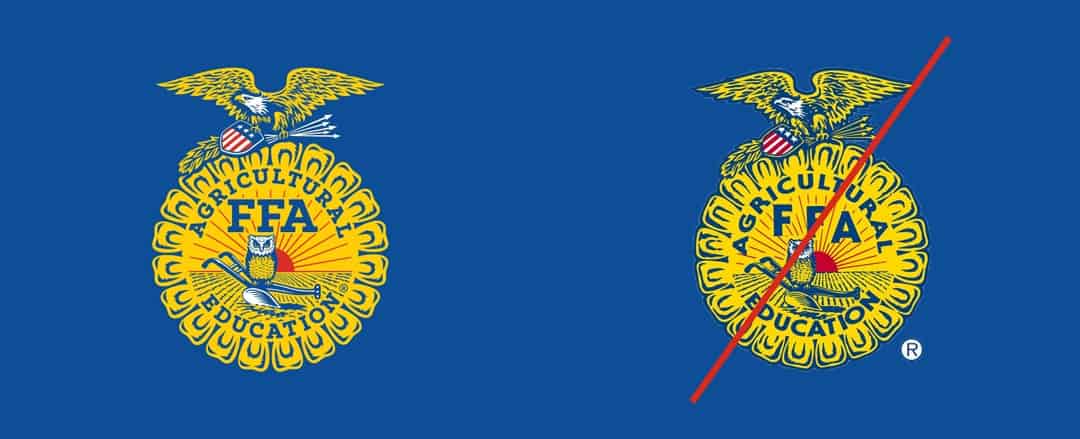 Do's
Do use the current emblem
Do give the emblem prominence
Don'ts
Don't use the former design
Don't print the emblem smaller than 0.75″
Don't digitally display the emblem smaller than 40 pixels
Leave room to make a statement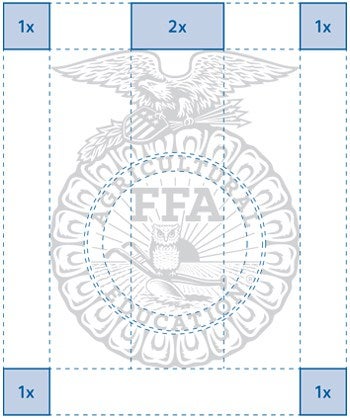 Emblem clearance – or the required empty space around the emblem – gives strength and stature.
This is an easy item to remember: just make sure an imaginary rectangle placed tightly around the emblem has clear space equal or greater than one-half of the width of the "FFA" letters in the emblem free of other text, graphics or patterns.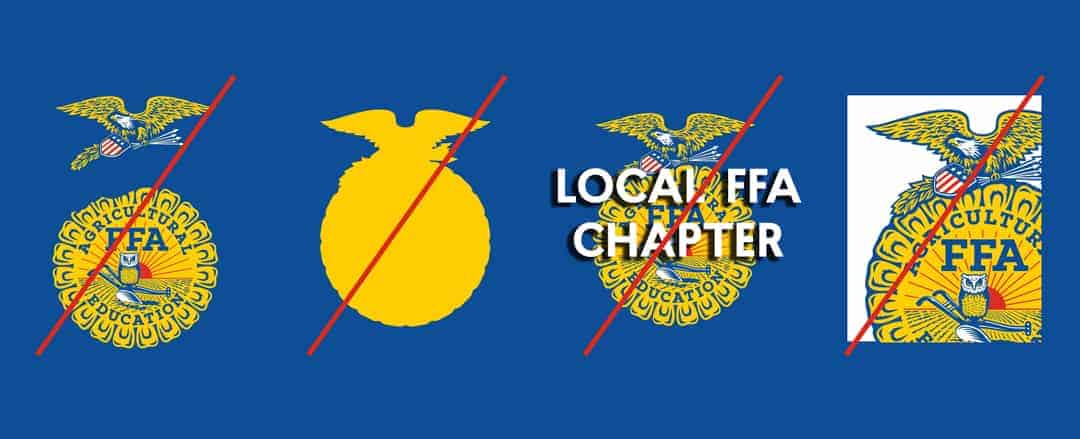 The FFA emblem stands on its own.
Never separate, silhouette, cover or clip the emblem.
Keep engraving/etching separate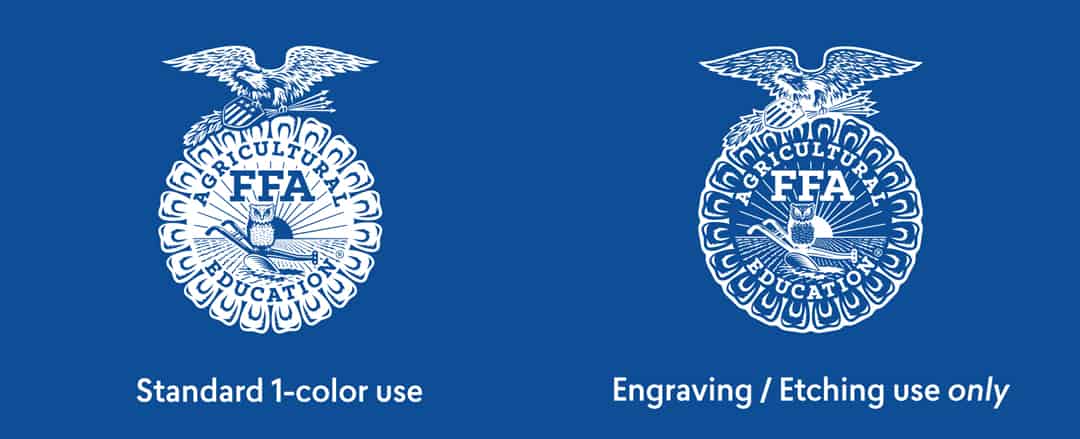 The reverse white emblem should only be used when engraving or etching emblem into physical material.
Showing our true colors
National Blue and Corn Gold are the primary colors of FFA. Combined with an accent red, these colors deliver immediate recognition and help us stand out.
Pantone 2945 C
CMYK: 100, 53, 2, 16
RGB: 0, 76, 151
Hex: #004c97
Pantone 116 C
CMYK: 0, 20, 100, 0
RGB: 255, 205, 0
Hex: #ffcd00
Pantone 485 C
CMYK: 0, 81, 87, 15
RGB: 218, 41, 28
Hex: #da291c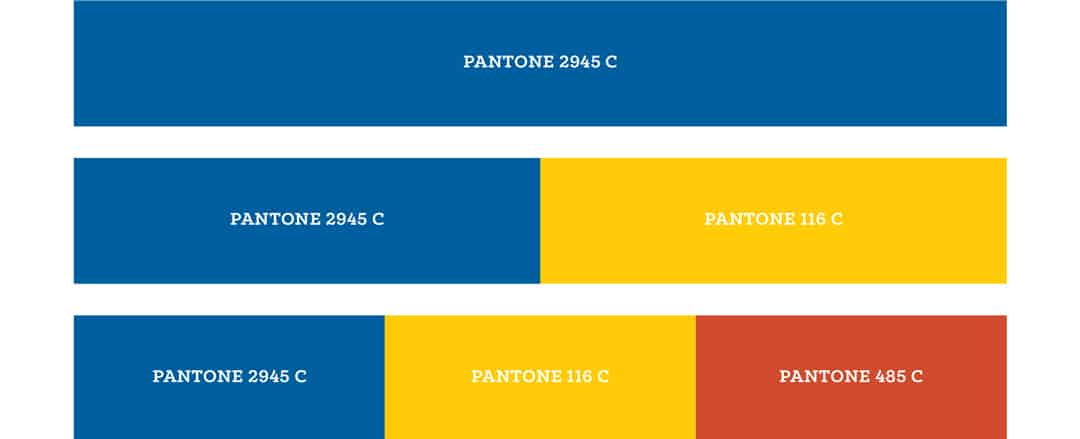 Blue is the primary brand color and should be used most often as the primary, dominant color. It provides a rich, high-contrast background and helps support the heritage of the brand.
The yellow pairs well with the blue and should be used as a secondary accent color.
The red is our tertiary color and can be used as another accent color. It works especially well when paired with the blue. It is most frequently used for linear, divider elements and call-out areas.